Android pulls in 75% of mobile market share in Q3, iOS manages 14.9%
Market share for Android is 75% in the third quarter of 2012, iOS gets 14.9%
Published Thu, Nov 1 2012 8:33 PM CDT
|
Updated Tue, Nov 3 2020 12:26 PM CST
Android is by far the most popular mobile operating system, very likely due to the fact that the phones vary so greatly between manufacturers. This means there is a phone available for nearly everyone that runs the Google-crafted operating system. Big or small screens, multicore processors, whatever your desire, there is an Android phone to meet your needs.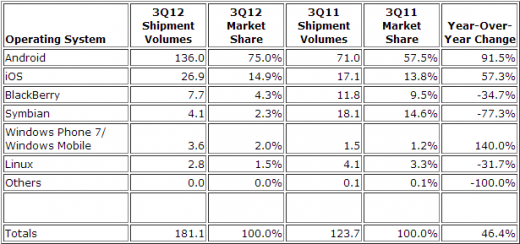 I'm sure this is why Android's market share came in at exactly 75 percent for the third quarter. This large number comes as no surprise to me at all, just like the market share numbers for Windows comes as no surprise. Apple's iOS market share is just one-fifth of this number, coming in at a tiny (by comparison) 14.9 percent.
BlackBerry and Symbian are still doing horribly. BalckBerry managed to grab just 4.3 percent of the market, falling 34.7 percent year-over-year. Symbian did even worse, capturing a tiny 2.3 percent and falling 77.3 percent year-over-year. Windows Phone 7 is still the biggest loser in terms of market share, but did the best in year-over-year change.
Windows Phone 7 captured just 2 percent of the market, but is up 140 percent year-over-year, which is impressive growth numbers. These numbers come from IDC, who produced the above chart.
Related Tags