Crysis 3 is coming. We've covered the game quite a bit, especially while checking it out at E3. We've told you how to get an Alpha multi-player key for this upcoming public trial. Now we're bringing you news that if you pre-order Crysis 3, CryTek and Electronic Arts will provide a free digital copy of the original for PS3, Xbox 360, or PC.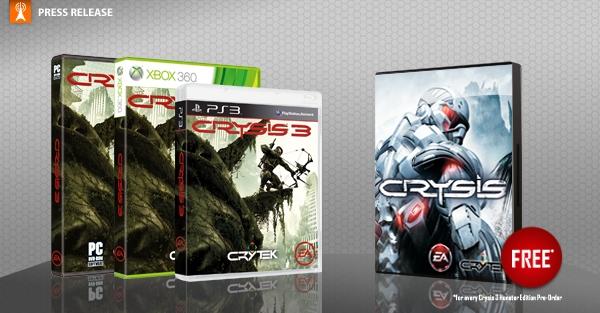 "The release of Crysis in 2007 was truly a watershed moment for first-person shooters and raised the bar on cutting-edge visuals and gameplay and we could not be more thrilled to include the original game as a pre-order bonus," said Cevat Yerli, Chief Executive Officer of Crytek. "Building upon the framework laid by the previous games, Crysis 3 offers unparalleled tactical freedom as players experience New York City's Seven Wonders and adapt to the truly unique challenges they present. By blending the best elements of the series so far, we've created an action experience that we believe will blow fans away."
Crysis 3 is sure to be great and getting Crysis original for free is just that much better. Users who pre-order the Crysis 3 Hunter Edition will get the Predator bow immediately in multiplayer, along with a Hunter Nanosuit module. Players will also start at level 5 in multiplayer. Pre-order the Hunter Edition on Origin.com and other retailers for $59.99.
Crysis 3 is coming in February 2013 for Xbox 360, PlayStation 3, and PC. You'll be sure to find me on there opening weekend.