Google releases new Search app for iOS, Google's most advanced voice search finds a home on iOS
Google's most advanced voice search app has reached iOS.

Published Wed, Oct 31 2012 12:36 AM CDT
|
Updated Tue, Nov 3 2020 12:26 PM CST
Google have just released the new Google Search app for both the iPhone and iPad, which sports enhanced voice search that answers just about any question you have, with Google's comprehensive search results.
Thanks to Google's fast and accurate voice recognition technology, the new app understands exactly what you're saying. All you have to do is not use Siri, load up this app and tap the microphone icon asking a question such as "is United Airlines flight 318 on time?" As you speak, the words appear on screen and you'll receive your answer immediately. If the answer is short, such as asking the time, Google will tell you the answer out loud.
Google's Knowledge Graph is also another great piece of this app, giving their search technology an understanding of people, places and things in the real world. Here are some examples of what questions Google can answer:
"What does Yankee Stadium look like?" Google will show you hundreds of pictures instantly.

"Play me a trailer of the upcoming James Bond movie." The trailer starts playing immediately right within Google Search.

"When does daylight savings time end?" The answer will appear above the search results, so you can set your clock without having to click on a link.

"Who's in the cast of The Office?" See a complete cast list and find out who made you crack up last night.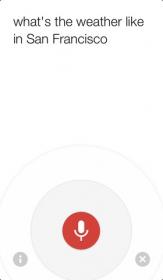 You can get the new Google Search for iOS app right here.
Related Tags