Top 5 things you'll want to use in Android 4.2 Jelly Bean
Top 5 list of the best features of the just-announced Android 4.2 OS.

Published Mon, Oct 29 2012 9:33 PM CDT
|
Updated Tue, Nov 3 2020 12:26 PM CST
Android 4.2 was just announced, but you'll need to have the skinny on those features, right? Well, I'm an avid Android user and there's a bunch of new features that look great, so let's go through a few of them.

Android 4.2 is going to arrive on the freshly announced Nexus 4 smartphone and Nexus 10 tablet, and should be quite the OS from Google. Android 4.1 really ramped it up with Project Butter, but there are some features in Android 4.2 to be quite excited over, so here we go.
5.) Daydream - This is something that will have its specific users, who want to use this feature, but it is something nice to see as a tiny feature on an otherwise huge release from Google. Daydream will allow your tablet to display photos, news and more while the device is idle, or docked.
4.) Gesture Typing - Most Android users already use a third-party keyboard like SwiftKey or Swype, but this is Google's shot at the keyboard game. Gesture Typing lets you type by just sliding your finger along the words on the on-screen keyboard.
3.) Photo Sphere - Photo Sphere is going to be huge, as its a new way of taking panoramic photos. Photo Sphere creates huge multi-shot scrollable images, but instead of just left-to-right or vica versa, you can take shots by taking individual photos up, down, left and right creating 360-degree images. I think we'll see some great photos from this, and one of the best features of Photo Sphere is that you can upload the pictures to Google Maps for the rest of the world to see!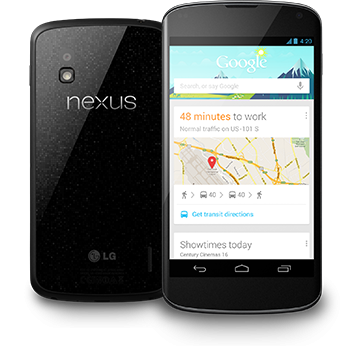 2.) Multiple User Support - This is a feature that is really going to set Android far ahead of iOS, multiple user support. Android 4.2 now supports multiple user logins on an Android 4.2-powered tablet, such as the Nexus 10. Wallpaper, saved data, widgets and more will be individual to who is logged in at the time.
This is a great feature for those like me, who leave their tablet out in the living room and have family or friends over. You could create a guest account with no password, and then if someone wants to pick up your Nexus 10 and surf the web, or check out a YouTube video, they're not sliding through your personal tablet, data, and e-mails.
1.) Google Now - Google Now. I've had the pleasure of using Google Now for a few weeks now on my smartphone and I completely love it. It really is incredible with the amount of "cards" it displays. Google Now can show you weather, detailed directions and more. If you commute from home to work in the usual 5-day fashion, it will learn this and give you directions to work, all with traffic conditions.
If you search for something more than once, like sports scores, it will keep a "card" in Google Now, constantly keeping you up-to-date. Android 4.2 gives Google Now a revamped feel with new cards and improved interactions.
There's a lot to look forward to with Android 4.2, and those who grab a Nexus 4 from LG are going to be very surprised at just how powerful Android is these days.
Related Tags