SwiftKey introduce SwiftKey Flow, you won't even need to lift your finger when typing
SwiftKey shows off SwiftKey Flow, lets you type by sliding your finger instead of tapping.

Published Fri, Oct 26 2012 1:30 AM CDT
|
Updated Tue, Nov 3 2020 12:26 PM CST
I have to admit, I absolutely love SwiftKey. It's one of the first apps I install on any new Android-based device I use, personally or for reviews. The developer behind the application has just announced something new, SwiftKey Flow.
SwiftKey Flow infuzes the power of SwiftKey's predictive algorithms, and puts a new spin on continuous input, offering real-time prediction as you begin to "flow" a word on the keys. Sounds amazing, eh? Check out the video above!
There are already apps like this out, such as Swype, but SwiftKey's prediction engine is very, very powerful. From the start of your finger touching the screen, SwiftKey Flow begins offering you predictions based on the movement of your finger - as soon as you let go of the screen, SwiftKey Flow will enter your word onto the screen. The application has been "engineered to simultaneously support both typing by 'tapping' on the keys (SwiftKey as you currently know and love it) and gliding across the keyboard".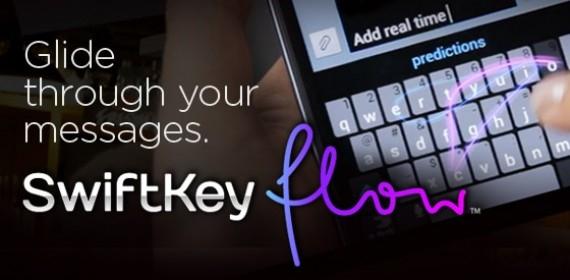 This gives you the best of both words, being able to "flow" words, or use your thumbs to quickly bang out a text. SwiftKey will be releasing a beta of Flow shortly, with the VIP community receiving first dibs. I can't wait.
Related Tags