New AMD FX-8350 overclocking record set before the chip is even out
NAMEGT sets new AMD FX-8350 overclocking record with a massive 8.176GHz.
Published Thu, Oct 25 2012 3:34 PM CDT
|
Updated Tue, Nov 3 2020 12:26 PM CST
The new AMD Vishera desktop CPUs are proving to be quite the overclockers. Vishera is the codename for the new desktop chips that are taking advantage of the updated Piledriver cores. They're said to offer 15 percent more performance per clock. It appears they have also retained their incredible overclocking ability.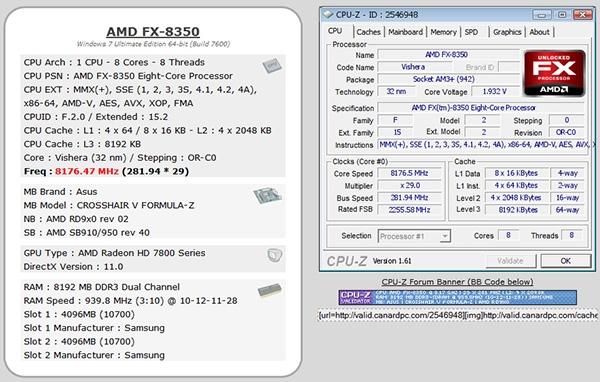 As you can see in the image above, the new record saw the FX-8350 overclocked to 8.176GHz, which blows away the previous record of 7.443GHz. The feat was achieved by NAMEGT. NAMEGT utilized a Crosshair V Formula-Z motherboard and a dual-channel 8GB memory kit. Of course, liquid nitrogen was used for cooling.
The core voltage was a super-high 1.932V. The chip features a multiplier of 29x and an external frequency of 281.94. This resulted in an ultimate clock speed of 8176.5MHz, an impressive feat. It will be great to see what these chips can really do when more overclockers get them in hand after their launch. New clock speed record? Seems like a possibility.
Related Tags