GeForce 310.33 beta drivers arrive, offer speed increases of up to 15%
NVIDIA doesn't settle either, releases GeForce 310.33 beta drivers offering up to 15% speed increase.

Published Tue, Oct 23 2012 11:27 PM CDT
|
Updated Tue, Nov 3 2020 12:26 PM CST
AMD might Never Settle, but it doesn't mean NVIDIA will settle, either. NVIDIA have a new batch of beta drivers out which offer up to 15% more performance on certain GPU and software setups, as well as offering some new and updated profiles.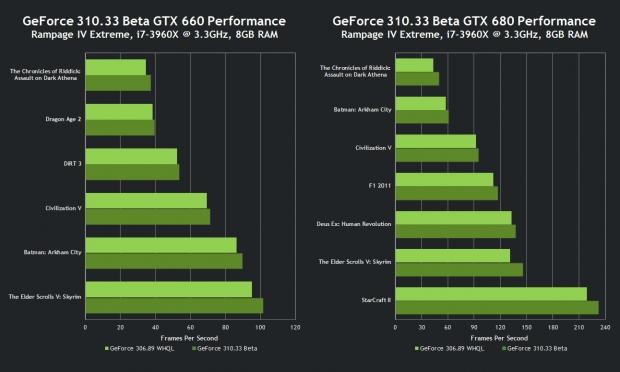 When compared to the GeForce 306.89 WHQL drivers, the new GeForce 310.33 beta drivers offer some improvements in most of the latest games, as shown in the table above. On top of these performance improvements, the new 310.33 beta drivers also include new or improved ambient occlusion support for Cross Fire, Dragon Nest, Meng San Guo, Counter-Strike: Global Offensive, Darksiders 2, and MechWarrior Online.
New or updated SLI and 3D Vision profiles are also included with GeForce 310.33 beta including Assassin's Creed III, Call of Duty: Black Ops 2, Dishonored, FIFA 13, Hitman: Absolution, Need for Speed: Most Wanted XCOM: Enemy Unknown and more. The new beta drivers also include some Windows 8-specific fixes, the first of which caused a forced reboot on pre-release versions of Windows 8, with the other causing a "Hardware Test Failed" error when running the 3D Vision Setup Wizard on Mitsubishi's WD-6039 monitor.
Windows Vista and Windows 7 fixes include an antialiasing bug in Diablo III, speed issues in Crysis 2 and Battlefield 3, quad-SLI surround issues with the GTX 690 in WoW, graphical distortion with flash videos and a few more. You can get the new drivers right here.
Related Tags