Borderlands 2 has been available on PC, Xbox 360 and PS3 for over a month now, but with Gearbox Software already releasing a new piece of DLC last week, we're sure many of you are still fighting across Pandora looking for loot and to kill Handsome Jack. But what if you could take everything you love from Borderlands with you while you're on the go on your mobile device? Then I'm sure you'll be one of the millions of people around the world who will be excited to hear Borderlands is coming to iOS very, very soon.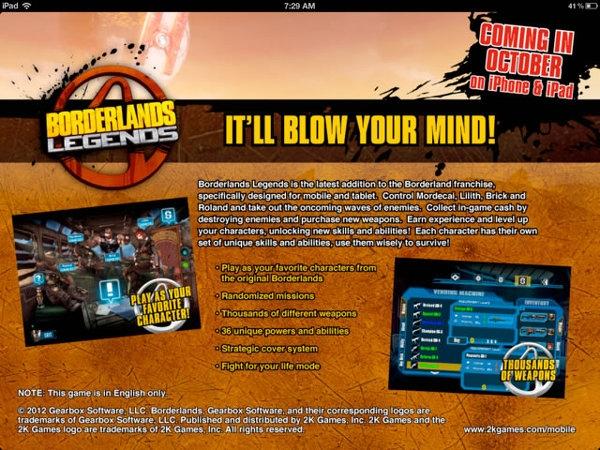 According to an ad that was leaked in Borderlands 2's digital strategy guide, it looks as though a Borderlands-inspired iOS game is currently in the works called Borderlands Legends. Better yet, the ad says the game will be "coming in October" which means the game should be released very soon.
The ad for Borderlands Legends says the game has been designed for mobile and tablet devices and will have you play as the heroes from the original Borderlands. Players will take on wave after wave of enemies in order to collect in-game cash and experience which can be used to purchase new weapons, level up your character and unlock new skills and abilities. Seeing as the characters are from Borderlands, take the phrase "new skills and abilities" to mean skills and abilities they were already capable of.
Borderlands Legends will use a "strategic cover system" and will have randomized missions, which is a departure from the mission structure of both Borderlands and Borderlands 2. Looting will also play a big role in Borderlands Legends as there will be thousands of items available.