"The Mac mini is packed with great features. But the action on this product and the update is on the inside." Four USB 3.0, SD card reader, HDMI, i5 or i7 Ivy Bridge, 16GB of RAM, and 1TB or 256GB of flash. Server model comes with a 2.3GHz i7, 4GB of RAM, and dual 1TB drives for $999. Both ship today.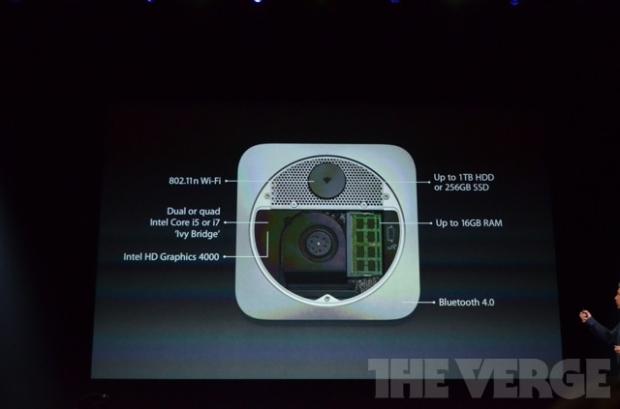 Phil really rushed through that to get to the iMac refresh. The iMac has gone through 7 generations, with "each one better than the last." The new one is incredibly thin. "It's stunning from every side. Edge-to-edge glass... Would you like to see one in person?" "The most beautiful Mac we've ever made."
[img]3[/img]
And here comes the specifications. At the edge, its only 5mm thick. It features no optical drive, an IPS screen, and all of the internal components have been "re-engineered."
[img]2[/img]
And now, a peek inside. It features 802.11n WiFi with Bluetooth 4.0, NVIDIA Kepler graphics and up to 768GB of flash storage, along with an i5 or i7 processor and 32GB of RAM. It can also be configured with a 3TB HDD or what Apple is calling a Fusion Drive, which mixes 128GB of flash storage with a 1 or 3 TB HDD.
Base price on the 21.5-inch iMac is only $1,299. They start shipping in November. The 27-inch, $1799 model starts shipping in December.