Intel's next-gen Atom currently slides along with the name of "Avoton", and is the chipmakers upcoming system-on-a-chip (SoC). Avoton will be based on 22nm Silvermont architecture and will reportedly sport 8 cores sharing 4MB of L2 cache (1MB per core).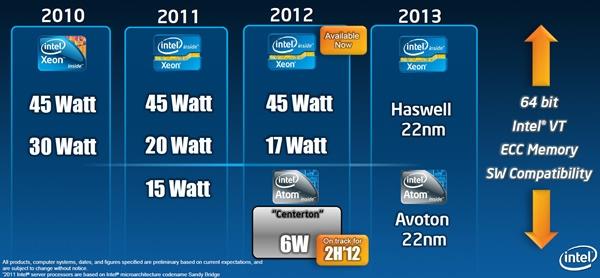 Avoton's eight-core processors will feature clock speeds of between 1.6GHz and 2.4GHz, while including OOE (out-of-order execution) as well as Turbo Boost. Current Centerton-based Atom processors should be left behind performance wise by these new Edisonville platform-based Atom processors.
Turbo Boost will see the clock speeds reach around 2.7GHz which is quite good considering these new SoC will only come with a TDP of 6 to 8.5W. The Avoton SoC will have a TDP of somewhere between 6 and 20W. Avoton will improve upon Centerton's formula by throwing more features on-die, which will include gigabit ethernet, USB 2.0 and USB 3.0.