An update is coming to Yelp which should help deter businesses from purchasing fake reviews. Businesses who are caught doing underhanded transactions will be labeled with a notice alerting customers for 90 days. And if the business is caught doing it again within those 90 days, it will stay even longer.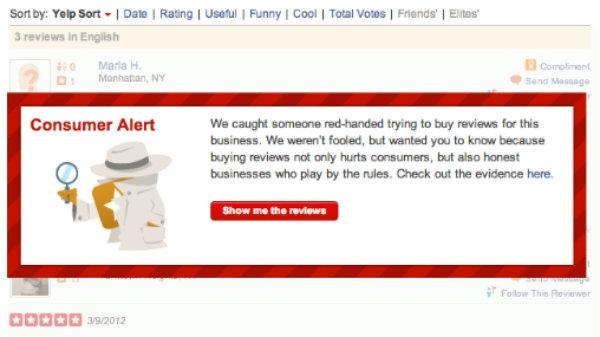 The warning that will be shown can be seen above. It offers a bit of information on why it is there and why its bad that businesses purchase positive reviews. It also gives the option to show the reviews that have been flagged as purchased, which reportedly are flagged by an automatic system.
"We want to make sure consumers are making informed decisions," Yelp said in a blog post Thursday announcing the consumer alert labels. "Yelp's automated review filter is working around the clock to flag these types of biased reviews, and we believe that you deserve the right to know when this type of activity is taking place behind the scenes."
Purchased reviews are a growing problem. Gartner predicted last month that by 2014, 10 to 15 percent of social media reviews will be purchased fakes. Hopefully Yelp's new system will keep some of these reviews at bay. If they can't, the whole idea of looking at Yelp reviews goes out the window.