Hilarious new love story details a man and his love for his personal assistant Siri
New book details man's love for Siri and shows the complications from Siri's lack of understanding
Published
0 minutes & 49 seconds read time
I definitely got a laugh when I saw this, I think you just might as well. We all know we live in a digital age where people seem to be more connected to their devices than the people around them. Well, author of Goodnight iPad, a parody of the well-known Goodnight Moon, has chronicled one man's love for Siri in his new book called Siri & Me: A Modern Love Story.
As you can see in the video above, it definitely looks like it will be a humors book. He pokes fun at her ability to understand several times: "I love you, Siri," Dave says. "I'll bet you say that to all of your gadgets..." Siri responds.
"The concept to do something about Siri came from my publisher when we had a meeting after the iPad book, but it really resonates with me and I'm completely fascinated by technology," Milgrim told Mashable. "It boggles my mind how much we live digitally now."
I'm just hoping that this new love story doesn't involve two star-crossed lovers, or both of them could be in for some serious trouble. Maybe Siri will guide him into a river? What do you think about this new "love story?"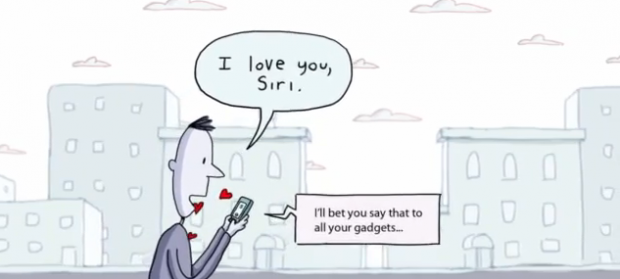 Related Tags