WinZip 17 launches, includes cloud storage support with Google Drive, Dropbox, Facebook, SkyDrive and more
WinZip 17 launches, is integrated tightly with the cloud with cloud storage options like SkyDrive, D.

Published Tue, Oct 16 2012 9:21 PM CDT
|
Updated Tue, Nov 3 2020 12:26 PM CST
I remember the days of the original versions of WinZip, I was a huge, huge user of the software and I still use it to this day. Well, WinZip Computing have just launched WinZip 17, which is the industry's first singel application that is designer to "give users a better way to manage, protect and share files across all the ways we connect today - the cloud, social media and email".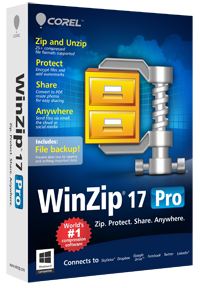 WinZip 17 now features direct integration with cloud-based storage options like SkyDrive, Dropbox and Google Drive. This is great as you can zip your files up, saving space on your cloud storage, as well as offering 128- or 256-bit AES encryption making your files safer than ever in the cloud. WinZip 17 also allows you to both manage and share your files directly from the slow, where WinZip 17 can automatically create links to the files you want to send to friends or family over email.
WinZip 17 also ships with an updated UI, and more intuitive zipping and unzipping of files. WinZip 17 also allows you to send large files or even entire folders, quickly and securely. You can send up to 50MB with a free ZipSend Lite account or up to 2GB with a ZipSend Pro account. WinZip 17 also sports an enhanced compression and encryption engine which lets the software crunch numbers for zipping even quicker than before. WinZip is the only file utility software designed to harness the power of graphics processing units (GPUs) like Intel's third-generation Core processors, AMD A-Series APUs, AMD Radeon and NVIDIA GeForce GPUs.
Patrick Nichols, President of WinZip says:
With more than a billion downloads, WinZip has proved itself as the software that users and companies trust to protect, store and share their information. We are the industry's #1 choice because customers know they can count on us to deliver the power of WinZip where it's needed most - and today that means the cloud, social media and email. By bringing together your clouds, enabling users and businesses to take file protection into their own hands, and offering unprecedented options for sharing on social media, WinZip 17 dramatically improves all the ways we share today.
Related Tags