New iPod touch "too thin" to fit an ambient light sensor
iPod touch lacks an ambient light sensor because it is "too thin"
Published Tue, Oct 16 2012 3:33 PM CDT
|
Updated Tue, Nov 3 2020 12:26 PM CST
The new iPod touch has one feature curiously absent. If you've ever seen your old iPod touch screen brightness change when you walked out of a dark room into the sunlight, you'll know the feature I'm talking about. The new iPod touch will not have this capability and will instead force users to do it themselves.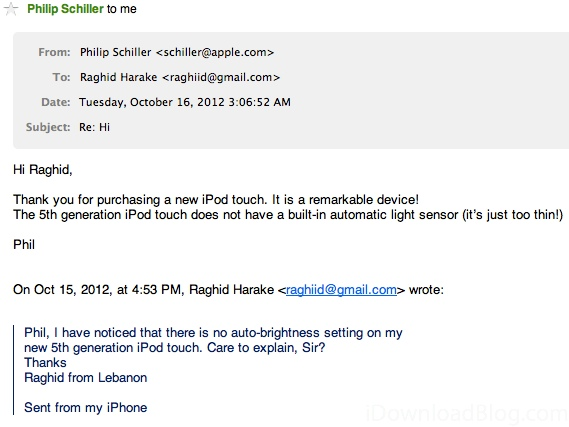 According to Phil Schiller, this is due to the new iPod touch being just too thin to fit the required ambient light sensor. Without the sensor, the device has no way of knowing the relative brightnesses between locations and lacks the ability to adjust the screen brightness to compensate for the difference.
It's not that big of a deal, but the automatic brightness adjustment is a feature that I have come to take for granted on my iPhone. It's great for when I am using it at night and had the brightness all the way down and then wake up in a bright room. Instead of trying to see on a dark screen, it automatically brings the brightness up to a comfortable level.
Is this a deal breaker for most? Probably not. But, I'm sure it will have a buying influence on a few people. Would it affect your purchase decision?
Related Tags