Felix Baumgartner breaks sound barrier skydiving from space
Felix Baumgartner becomes the first skydiver to travel faster than the speed of sound.

Published Sun, Oct 14 2012 8:27 PM CDT
|
Updated Tue, Nov 3 2020 12:26 PM CST
Felix Baumgartner has become the first skydiver to reach a truly special milestone: skydiving from the edge of our planet toward the ground faster than the speed of sound. Baumgartner reached a top speed of 833.9mph (1342km/h).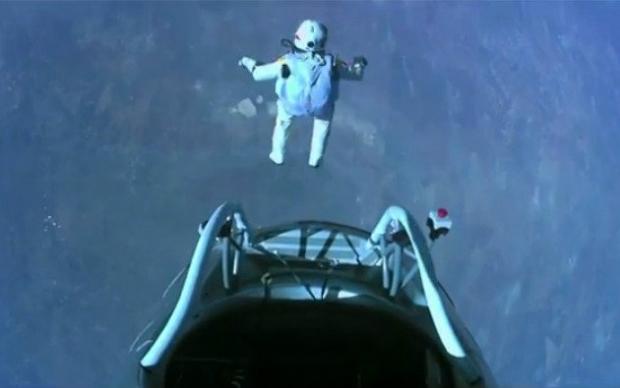 Baumgartner, an Austrian skydiver, spent two hours travelling up in a balloon to reach dizzying heights of 128,100 feet, (24 miles or 39km). After which he jumped out of his capsule, and spend four minutes in complete freefall, all in a pressurized spacesuit. This gave Baumgartner a world record for the highest ever freefall.
Once he hit the ground, he took a few steps and dropped to his knees, raising his hands in absolute triumph. Baumgartner said to the media just after his record-breaking skydive:
Let me tell you - when I was standing there on top of the world, you become so humble. You don't think about breaking records anymore, you don't think about gaining scientific data - the only thing that you want is to come back alive.
For now, none of this is "official" until it is endorsed by the Federation Aeronautique Internationale (FAI).
Comparing Baumgartner's jump to the previous record, which was set by Col Kittinger back in 1960 who jumped from a helium envelope. Kittinger still holds some of the record, as he was in freefall for a few seconds more than Baumgartner.
I'm scared of heights, and looking down from a 2-3 storey house is enough for me to feel weird, let alone from something like the Taipei 101 building which I did back at Computex in June. This height - there'd be my own wee all over that capsule.
Related Tags