If only they had had this feature a couple of months ago, I would have missed that really important going away party, but alas, they have only been testing it with a small portion of their user base, and I clearly wasn't one of them. The feature I'm referring to is one that sends a reminder notification to the regular notification center an hour before an event starts that you RSVP'd "yes" to.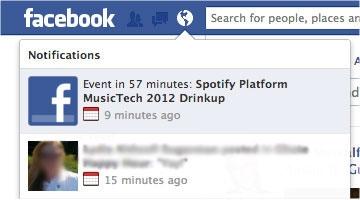 This is a feature we've been testing for a couple months with a small percentage of users. How it works is that people who RSVP "Join" to an event will receive a push notification and a jewel notification an hour before the event begins.
This feature should be of great use, and I'm not sure why they haven't done a complete rollout as of yet. Certainly just having the event on the rarely-checked right-hand side of the screen helps somewhat, but I certainly barely look to that portion of the screen as there is really no useful information over there.
This is likely just one of many new notifications that users will soon be receiving. Facebook is toying with the notion of releasing its notification APU, which would allow other people and programmers to take advantage of sending out notifications to users, such as President Obama apparently did when he sent out a notification about voter registration deadlines in Illinois.