I was laying in bed last night and grabbed my Nexus 7 that I have on my bedside table, I turned it on and hit the Google Play store to have a look around. I noticed that the menu looked different, so I looked closer and noticed that "Magazines" now appeared - finally, the Australian Play Store has magazines!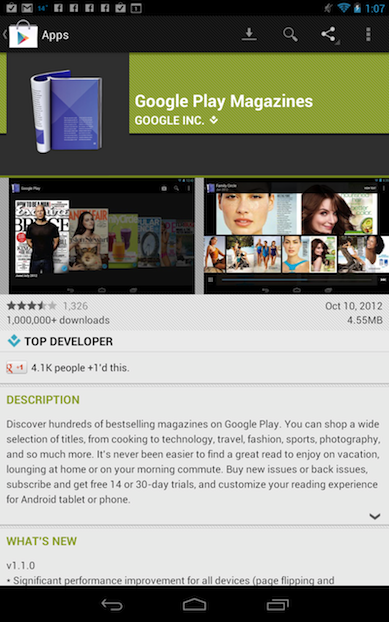 Cool, I thought, I'll check it out and purchase a magazine to see how it is. I download the app, purchase a magazine from an Australian technology magazine "PC & Tech Authority", lay down and proceed to enjoy reading it. Well, I couldn't because Google Play Magazines doesn't quite work yet.
The app itself doesn't open, and requires an update, which you can't tap the option to do so. You can see in the picture above, just below where it says "GOOGLE INC.", there should be an "Update", and "Open" tab, but there is not. So I have now wasted $4.99 on a magazine that I can't read. I'm sure it'll work soon enough, but it's disappointing to see Google launch a new section of their Play store, and have it fail on day one.
Anyway, the new Magazine part of the Play store offers countless titles from major Australian publishers like Haymarket Media, ACP Magazines and Pacific Magazines. Also thrown into the mix are a bunch of publishers from overseas, and the option of a once off purchase or subscription-based service is offered. Prices aren't too bad, where they either match the price of Apple's Newsstand, or they're slightly cheaper.
Play Magazines works on both Android-powered tablets and smartphones, meaning that any magazine you purchase is available across all of your Android-based devices.