The final downloadable content pack is available for the now nearly one-year-old Modern Warfare 3. With Black Ops 2 just around the corner, the publisher behind Modern Warfare 3 is looking to milk as much money as it possibly can before it has to wait another year to release a Call of Duty game.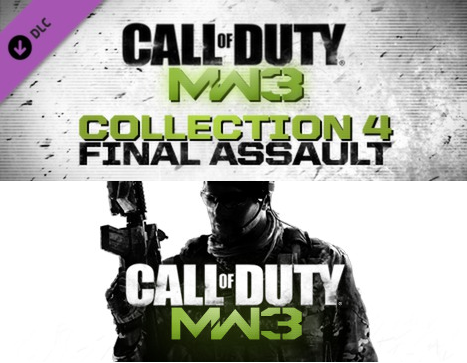 The new DLC brings five all-new multiplayer maps for players to explore and learn how to play. Players will see a wide range of scenery, from the beach, to New Orleans, to off-shore sea-based battles. There's one thing that is almost a certainty about this DLC pack and that is that it will sell in droves, just like all of the Call of Duty games do.
Call of Duty®: Modern Warfare® 3 Collection 4: Final Assault, new content for Call of Duty®: Modern Warfare® 3, is now available on Steam!

Saluting Modern Warfare® 3's Season of Content, the fourth and final DLC collection deploys with five all-new Multiplayer Maps. Surrounded by mountains, "Gulch" sends combatants into a forgotten mining town with only mine shafts and equipment sheds for cover. The Jersey coast awaits in "Boardwalk," where fun in the sun means facing enemies on the beach. Players must earn their sea legs in "Off Shore" and "Decommission," where deadly oceanic oil rigs and a maze of rotting ocean liners provide the perfect setting for shoreline-based combat. Rounding out the collection is a trip to New Orleans' war-torn French Quarter, where "Parish" pits players against one another amid the city's rubble.