AMD Z-60 APU will power tablet and hybrid PCs, uses just 4.5W at load
AMD announces their new tablet-bound, Windows 8-compatible Z-60 APU.

Published Tue, Oct 9 2012 12:01 AM CDT
|
Updated Tue, Nov 3 2020 12:26 PM CST
We were privy enough to get asked to join in on a conference call for AMD's Z-60 APU last week, with the company pulling the veils down on their new Accelerated Processing Unit today.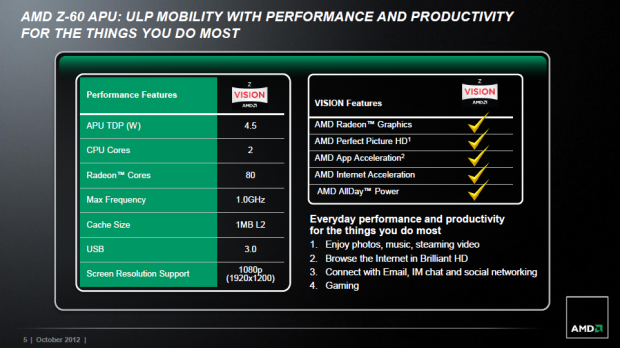 AMD's new Z-60 APU is built to be an ultra-low power consuming chip, with its heart lying in tablet and hybrid PCs. AMD's Z-60 APU is designed to maximize system responsiveness, where it is capable of quickly entering, and exiting low power states. To get these benefits, there's no special hardware required, just an optimized BIOS.
AMD's new Z-60 APU is capable of resuming from sleep within a few seconds, and can boot into Windows in the half-a-minute mark. Something that isn't quite amazing compared to today's Core i7 systems powered up with a nice SSD, but it is a tablet that is chewing less than 5W, remember.
AMD's Z-60 APUs are a dual-core design, with 80 Radeon cores included. We should see a maximum clock speed of 1GHz, with 1MB of L2 cache included. USB 3.0 support is present, with 1080p (1920x1080) the APUs maximum supported resolution. All of this finds its way into a package that has a TDP of just 4.5W.
Because AMD's new Z-series of APUs is designed for tablets, they're able to bake these new APUs into a tablet that is just 10mm thick. Radeon graphics are included with screen resolutions capable of driving up to 1920x1080. How's the battery life? Well, we're looking at up to 6 hours of 720p video playback and up to 8 hours of web surfing on the new Z-series of APUs. Not too bad, but not amazing.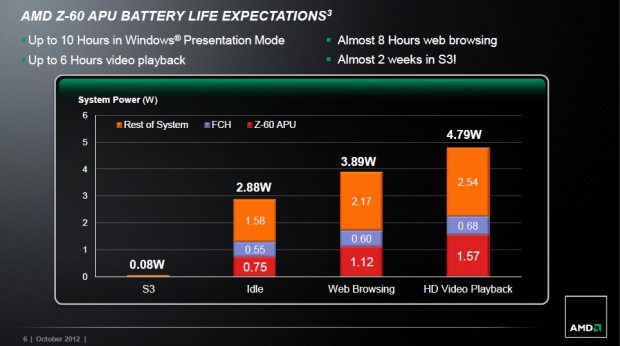 Power consumption is where AMD really drive it home, where the Z-60 APU only consumes around 2.54W of power when playing back 720p video, and just 2.17W of power when surfing the web. Total power consumption numbers for 720p video playback and web surfing are 4.79W and 3.89W, respectively.
AMD really drove home the ability that this is one of the most power-conscious chips out, and will redefine how people play games on tablets, and raise their expectations whilst doing so. AMD's new Z-60 APU is able to run games that just aren't possible on today's tablets, where the company cited the ability to play a game such as Call of Duty: Modern Warfare 2 at 1280x720 on medium detail at around 30 frames per second - not bad for an APU that chews under 5W of power.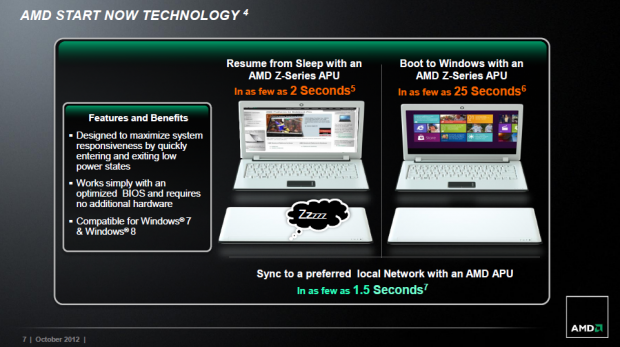 Tablets powered by AMD's new Z-60 APU will sport the ability to run all day, which is something AMD are quite proud of. Some of the current tablets on the market won't last an entire day - and because these APUs will work with Windows 8, you'll be able to do real-world work on these devices such as using Microsoft Office suite applications and games.
AMD's Z-60 APU is capable of running all legacy apps through Windows 8, which is somewhat of a bragging point on the tablet market right now which is dominated by ARM-based chips. This gives all Z-60-based devices the ability of having a printer, or any other commonly-used peripheral up to your tablet, and use it like you would on your notebook or desktop PC.
One of AMD's design goals with Z-60 was to bring productivity to the tablet, but reduce power consumption, and bake it all into a package that lets you bash away at it all day, something AMD pointed out multiple times during the presentation.
Another point AMD made is how quick Z-60-based tablets will boot up with their 'AMD Start Now' tech, which provides "maximum responsiveness" in their systems. It can quickly enter a low-power state, which is something AMD have worked into their BIOS, and is easy for their customers to provide consumers with this option.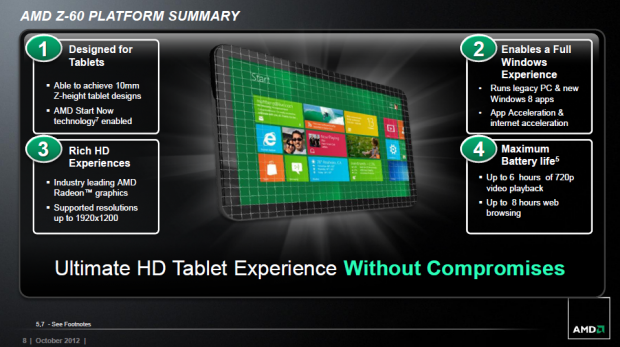 From a cold boot, a Z-60-based tablet can boot into Windows 8 in under 25 seconds, and if connected to a prefered LAN, in under 1.5 seconds. This will allow consumers to get into their work, rest or play, quicker than ever.
Comparing the Z-60 to the C-60, we should be expecting the same performance but in a smaller package, including a lower thermal threshold and reduced power consumption.
The biggest eye-opener for me was the fact that AMD are talking about having a huge win over Intel for once in terms of graphics performance. Not that I was surprised, considering AMD own the Radeon brand, but AMD are talking about a 5-6x improvement in graphics on Z-60 over Intel's Clover Trail platform, and bragging that if Intel were to double this, they'd still be ahead of them.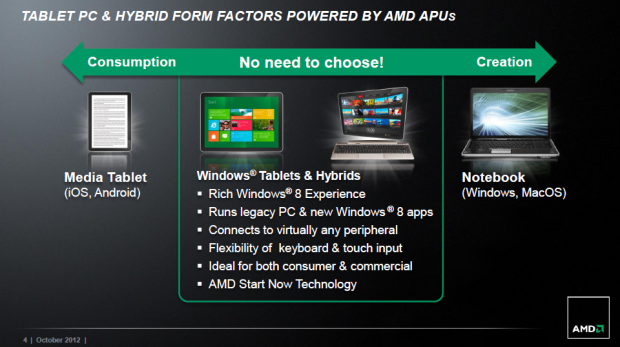 We should expect tablets rocking AMD's new APU to be less than 10mm thick, provide the full Windows 8 experience, support 1080p output, and give all-day battery life. That about sums up what we learnt about Z-60, in a nice, neat sentence. AMD sounded quite proud of their new baby, and so they should be - they really need to get a winner in the CPU/APU space right now.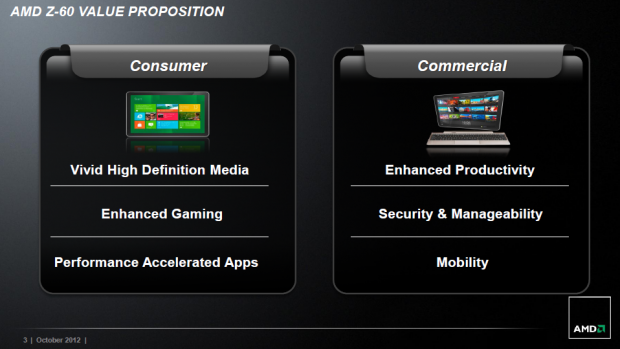 We should also expect a few designs out this year, with more devices coming in 2013 on the Z-60 APU. You should expect us to review them as they hit.
Related Tags