AMD slashes pricing on the HD 7850 again, prices trending down for entire 7000 series
AMD cuts pricing for HD 7850 GPUs, rest of lineup sees pricing declining which makes value increase.
Published Fri, Oct 5 2012 1:44 PM CDT
|
Updated Tue, Nov 3 2020 12:26 PM CST
The thrifty among our readers will be happy to hear that the AMD Radeon HD 7850 has seen another price cut, bringing the retail price for the 2GB version down to $189. Along with that cut, the rest of the product line continues to trend downwards as the series ages, the process matures, and competition heats up between AMD and NVIDIA.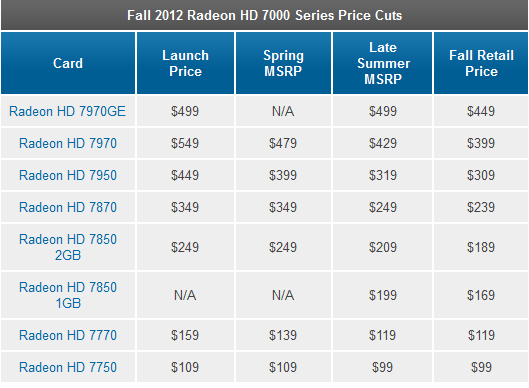 Anandtech has produced the nice chart you see above. The chart shows how the prices of AMD's offerings have declined continually since launch by comparing launch price, spring MSRP, late summer MSRP, and fall retail price. AMD has changed from quoting MSRP to quoting retail price as that usually is $10 lower than MSRP.
While the prices on the HD 7000 series started out really high, as of late they've become extremely reasonable due to the continual price cuts that AMD has been implementing. With the HD 8000 series due out early next year, prices will likely continue to fall on the HD 7000 series, though probably not until the holidays or just past.
Related Tags