Latest version of Google's Chrome browser enjoys over 85% adoption rate in one week
Chrome 22 passes 85% adoption rate in its first week since launch.

Published Thu, Oct 4 2012 10:36 PM CDT
|
Updated Tue, Nov 3 2020 12:26 PM CST
Google's Chrome browser is popular, but just how popular are new versions? Well, according to Chitika Insights, Chrome 22 enjoyed usage of 22% within 24 hours of its release.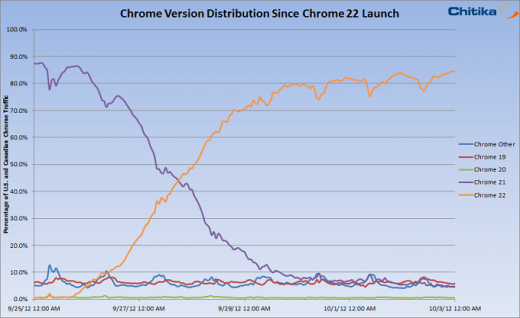 To compare this to Chrome 21, which enjoyed 25% on its release. But, more users have been shifting over to Chrome 22, where within its first week since launch hit an 85% adoption rate. Chrome 21 took ten days to reach the same milestone.
It seems that more and more people are keeping up with the bleeding edge of Google's web browser, partly because it has become much easier to keep up to date, and not wiping your settings or messing around with bookmarks again makes it easier for the mainstream user to transition, without worrying about losing a bunch of important data.
Related Tags