Modbook Pro gets priced at $3,500 - welcome to a touch-friendly MBP experience
Modbook Pro goes on pre-order, for $3,500 you can have a touchscreen MBP.

Published Wed, Oct 3 2012 9:31 PM CDT
|
Updated Tue, Nov 3 2020 12:26 PM CST
A touchscreen-based MacBook Pro is here, modded and ready to be pre-ordered. Modbook announced the preorders for their Modbook Pro, hitting a huge price of $3,500. What makes the Modbook Pro so special? Well, it's a touchscreen 13.3-inch MacBook Pro, with a stylus pen to boot.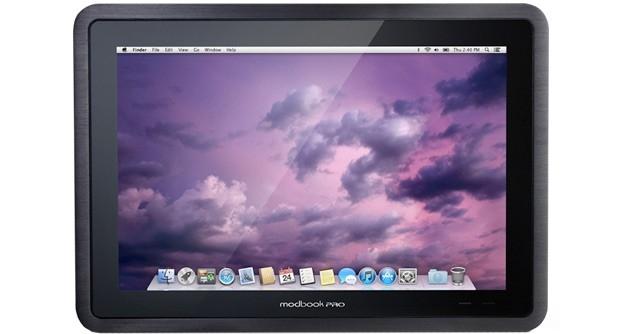 It's also fully customizable, where you can option it to come with either OS X Mountain Lion, OS X Mountain Lion with Windows 7 on Boot Camp, or just Windows 7. It's a wonderful thing to have all of that choice. Hardware-wise, you can configure the Modbook Pro with a 2.5GHz Core i5 processor, or upgrade it right up to a 2.9GHz-clocked Core i7 chip. Memory can be ramped right up to 16GB and storage can kick it up to a 480GB SSD drive.
Modbook Pro brings the best of both words, infusing the hardware of Apple's 13.3-inch MBP, with a Wacom Penabled pen tablet digitizer, all on an etched paper-emulating ForceGlass screen. If you want to order one of these bad boys, you'll need a $500 deposit with each order. The Modbook Pro's come with a 12-month warranty.
I think this is a great option for those who want a touch-enabled MacBook Pro, but $3,500 - wow.
Related Tags