Google updates Maps imagery with new high-resolution satellite and aerial images
Google updates aerial, satellite, and 45 degree imagery around the globe, likely a shot at Apple.
Published Fri, Sep 28 2012 11:28 AM CDT
|
Updated Tue, Nov 3 2020 12:26 PM CST
Google, almost as if to take a shot at Apple, has released more new imagery for their mapping service so that users can "virtually visit more places in high-resolution." Maps now features more high resolution aerial and satellite imagery, as well as a bunch of new 45 degree imagery for places around the world.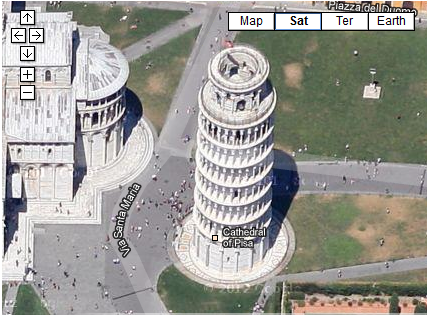 As you can see, some of the new 45 degree imagery includes famous places such as the Leaning Tower of Pisa, located in Pisa, Italy. The following are all of the cities with new imagery:
United States: Ames, IA; Anderson, IN; Billings, MT; Bloomington, IL; Carmel Valley, CA; Cedar Rapids, IA; Coeur d'Alene, ID; Corvallis, OR; Danville, IL; Dayton, OH; Detroit, MI; Dubuque, IA; Elizabethtown, KY; Enid, OK; Florence, SC; Grand Forks, ND; Great Falls, MT; Gulfport, MS; Hartford, CT; Kankakee, IL; Kenosha, WI; Lafayette, IN; Lancaster, CA; Lansing, MI; Lewiston, ID; Los Banos, CA; Madison, WI; Medford, OR; Michigan City, IN; Olympia, WA; Pocatello, ID; Sheboygan, WI; Sioux City, IA; Sioux Falls, SD; South Bend, IN; Terre Haute, IN; Utica, NY.

International: Angers, France; Clermont-Ferrand, France; Coimbra, Portugal; Dijon, France; Grenoble, France; Livorno, Italy; Lyon, France; Newcastle, United Kingdom; Oberhausen, Germany; Palermo, Italy; Pisa, Italy; Toulouse, France; Troyes, France; Winnipeg, Canada.
The following cities received new high resolution aerial updates:
Florence OR, Kellogg ID, Casper WY, North Platte NE, Concordia KS, Alva OK, Austin TX, Nevada MO, Chilicothe MO, Toulouse FR, Clermont-Ferrand FR, Angers FR, Nantes FR, Troyes FR, Lille FR, Thun CH, Lucca IT
And finally, the following received high resolution satellite updates:
Canada, United States, Mexico, Cuba, Jamaica, Haiti, Dominican Republic, Guatemala, Honduras, Nicaragua, Costa Rica, Panama, Colombia, Venezuela, Brazil, Peru, Bolivia, Paraguay, Uruguay, Argentina, Antarctica, South Africa, Namibia, Botswana, Mozambique, Zimbabwe, Madagascar, Zambia, Angola, Malawi, Tanzania, Democratic Republic of the Congo, Kenya, Somalia, Ethiopia, South Sudan, Sudan, Uganda, Central African Republic, Nigeria, Cameroon, Chad, Niger, Benin, Ghana, Burkina Faso, Ivory Coast, Guinea, Sierra Leone, Mali, The Gambia, Senegal, Mauritania, Western Sahara, Morocco, Algeria, Tunisia, Libya, Egypt, Israel, Saudi Arabia, Yemen, Oman, Qatar, United Arab Emirates, Kuwait, Turkey, Iran, Ireland, Norway, Sweden, Portugal, Spain, France, Italy, Poland, Lithuania, Finland, Belarus, Ukraine, Moldova, Romania, Hungary, Austria, Croatia, Serbia, Bulgaria, Greece, Russia, Kazakhstan, Uzebekistan, Turkmenistan, China, Pakistan, India, Sri Lanka, Bangladesh, Thailand, Nepal, Bhutan, Myanmar, Laos, Vietnam, Korea, Japan, Mongolia, The Philippines, Malaysia, Indonesia, Australia, New Zealand
Take that, Apple!
Related Tags