Gigabyte has been doing a bit of tweaking with their new FM2 boards designed for use with the second-generation AMD APUs. Gigabyte is bragging about the new board's overclocking capabilities, as the board features dual clock generators and many other cool overclocking tools.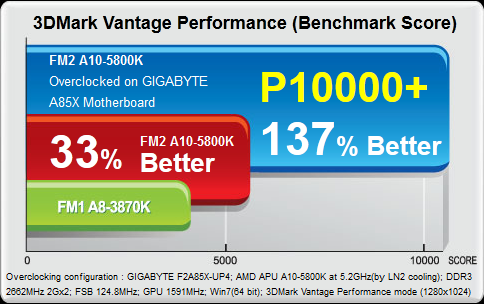 They're also pushing the ease of use that is Gigabyte Easy Tune 6, the software overclocking produced by Gigabyte for use with their motherboards. The entire system was overclocked to an impressive 5.2GHz on LN2, while running with a Gigabyte F2A85X-UP4 motherboard, 2x2GB DDR 2662 MHz RAM.
The FSB was set to 124.8MHz and the GPU was overclocked to 1591 MHz. Let's all take a moment and give some congratulations to Gigabyte, as this overclock is a pretty impressive feat. It looks like the new AM2 APUs will be quite overclockable when they get their final release sometime in October.