iPhone 5 camera shows a purple haze when the light source is positioned just out of frame
The iPhone 5 camera suffers from a purple haze when a bright light source is positioned just out of
Published Wed, Sep 26 2012 3:03 PM CDT
|
Updated Tue, Nov 3 2020 12:27 PM CST
For all of you who picked up the iPhone 5 on launch day last Friday, try taking a picture where the light source is just outside the frame and take a look at the resulting image. See that purple haze? Well, you're not alone. Members have taken to the AnandTech forums complaining about the issue and have corroborated each other's stories.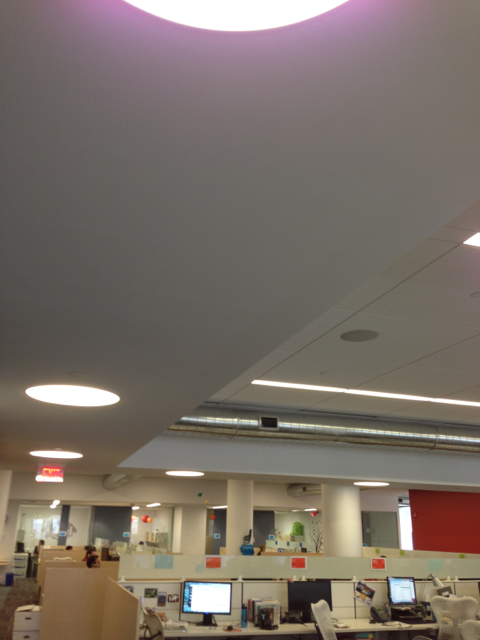 The current thought regarding the issue is that it is caused due to the use of sapphire for the lens. Sapphire is a hard material that comes in a variety of colors and the purple halo could be a result of the light refracting through a slightly purple lens. Sapphire is used for its toughness as it is difficult to scratch.
One user on the AnandTech forums stated that Apple support told him that this is a widespread issue. However, since people only seem to be complaining about it on AnandTech, it's not exactly clear just how widespread this issue is. Apple support also reportedly said that they are researching the problem. Another person reported that when they called Apple support, the representative said there have been a lot of calls about the problem.
The problem also exists on the 4S, though to a much lesser degree. The image above is one taken with the 5, and the one below was taken with a 4S. It's not clear if this is something Apple will be able to fix either by software or a change in lens material and whether or not they will replace user's iPhones if they do implement a fix.
[img]2[/img]
This is just the latest in a series of disappointments with the new device. Of course there is the terrible Maps application, along with light leakage, which has plagued previous Apple products, and the aluminum back plate being easily scratched.
Related Tags