Preliminary bill of materials for 16GB iPhone 5 is $199, $207 after manufacturing
iPhone 5 gets another preliminary bill of materials, this one comes in at $199 or $207 after manufac.
Published Wed, Sep 19 2012 6:36 PM CDT
|
Updated Tue, Nov 3 2020 12:27 PM CST
Apple sure knows how to turn a profit. A preliminary virtual teardown by IHS iSuppli Teardown Analysis Service tries to take a stab at what the individual parts cost and how that all adds up. This preliminary teardown found that the estimated cost for materials that go into the iPhone 5 16GB is $199.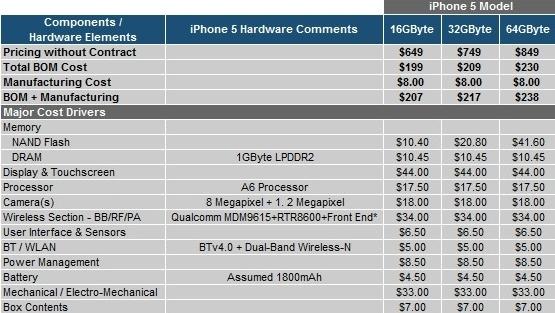 Apple sells that same iPhone 5 16GB, which costs $207 after adding manufacturing costs, for $649. Of course, this bill of materials doesn't include any software costs or research and development costs. Moving up the ladder, the 32GB iPhone runs $217 and the 64GB costs Apple $238. The only difference between these models is the NAND memory.
"With the base model carrying a $199.00 BOM, the iPhone 5's components are expected to be slightly more expensive compared to the iPhone 4S model," said Andrew Rassweiler, senior principal analyst, teardown services, for IHS. "The low-end iPhone 4S with the same memory density as the base-model iPhone 5 carried a BOM of $188.00, according to a preliminary estimate issued by IHS in October 2011. While the price of some components, such as NAND flash, has fallen during the past year, the iPhone 5's overall BOM has increased mainly because its display and wireless subsystems are more expensive compared to the iPhone 4S."
"The iPhone 5 makes a big evolutionary step in technology that we have not seen elsewhere with the use of in-cell touch sensing," Rassweiler said. "Most other smartphones LCDs use a completely distinct capacitive touchscreen assembly that is physically separate and placed on top of the display. The iPhone 5 partially integrates the touch layers into the display glass, making the product thinner and reducing the number of parts required to build display that senses touch without the need for a separate capacitive touch layer."
Related Tags