Google+ Hangouts get sound effects including laugh tracks and clapping
Google adds sound effects to Google+ Hangouts, sure to annoy your conversation partner.
Published Tue, Sep 18 2012 6:35 PM CDT
|
Updated Wed, Mar 10 2021 1:19 PM CST
Google has updated Google+ Hangouts to include sound effects that range from laugh tracks, to chirping. Get ready to be annoyed by constant laughing after jokes, clapping after singing, and plenty of other annoying sound effects that will ensure that your conversation is radically different from before.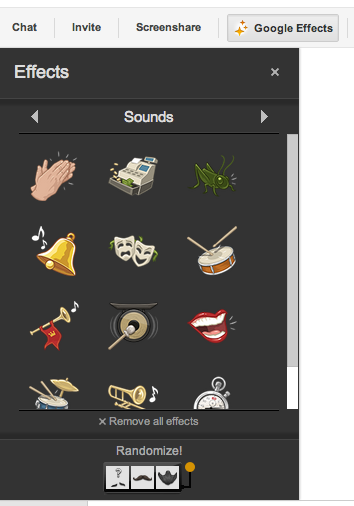 If you would like to start annoying your conversation partner, it's extremely simple. Click the "Google Effects" button, like in the picture above, and start clicking all the sounds. Google notes that users will need the latest version of the Hangouts plug-in, v3.6, but that should automatically update.
If you're having trouble using the new feature, you can download the updated plug-in from Google. Most of the population won't ever use these sound effects, but I'm sure there's that one person--you know who I'm talking about--that will enjoy using these sound effects to everyone else's dismay.
Will you find yourself using the new feature?
Related Tags