Google is king of producing high quality useless features. Think about it: the doodles are high-quality and cool, but not really useful. They may be good for a little bit of entertainment, but other than that, they serve no purpose. Today's addition is in the same vein in that it's fun, it's cute, but doesn't really serve any purpose other than that.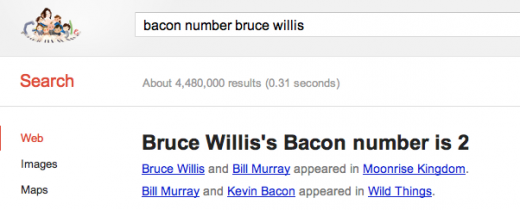 The new feature is called The Six Degrees of Kevin Bacon. The game, with tools, has been around for a while and spawned offshoots such as The Six Degrees of Wikipedia. The idea is that only six movies or fewer connect Kevin Bacon with any other actor, due to his wide appearances in movies.
To use the new tool, just type "bacon number" and an actor name. The number represents how many "degrees" apart they are. For example, in the picture, Bacon never worked with Willis, but they both worked with Bill Murray. If you're having a bit of trouble understanding the game, allow Wikipedia to explain:
Six Degrees of Kevin Bacon, It's a variation on "six degrees of separation" which posits that everyone in the world is no more than six acquaintance links from anyone else on Earth. That idea moved into the pop culture mainstream when it spawned a popular play and movie by the same name. It later morphed into a parlor game, wherein movie buffs challenge each other to find the shortest path between an arbitrary actor and the amazingly well connected Hollywood veteran Kevin Bacon.