It looks like the next-generation Xbox is about to get a kick up the arse in terms of immersion within gaming, is a new patent submitted to the United States Trademark and Patent Office from Microsoft is anything to go by. The new technology would completely transform the room your next-gen Xbox is in, into a gaming environment. The patent reads: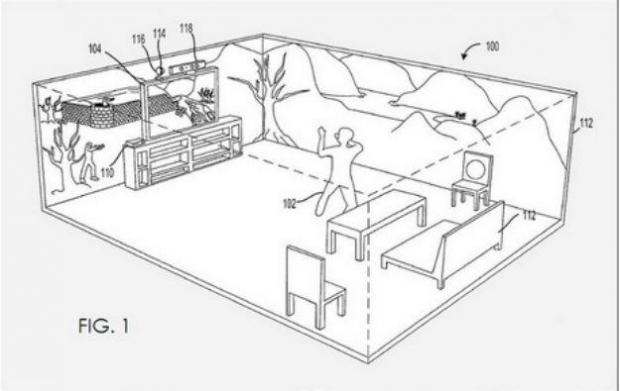 An immersive display environment is provided to a human user by projecting a peripheral image onto environmental surfaces around the user. The peripheral images serve as an extension to a primary image displayed on a primary display.
This could work in a few ways, with either a projection of an image from the Kinect sensor, or wearable computing. I'd be leaning more toward wearable computing - as this would allow the Xbox and Kinect system to just send the information to the headset, where it would display a 2D graphic in front of the player. This would translate into you looking at your wall, and seeing a crushed wall for example, with an enemy behind it shooting at you. You would then turn physically, facing the wall, to shoot your enemy.
This would definitely be the kind of push I expect in next-gen consoles, especially if we're to see a 5-year or more lifecycle out of them.