The patent war between Apple, and what seems like every other company on Earth doesn't look to stop any time soon. A Chinese company, GooPhone, has already patented the design of the new iPhone, in China.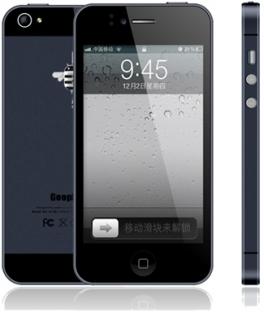 The new GooPhone i5, yes that's its name, was patented and released before the new iPhone was even announced (and it hasn't even really been announced yet, not until September 12). This gives the Chinese company a legal advantage over the real iPhone maker.
GooPhone i5 runs Google's Android 4.1 OS, and of course its internal goodies would be far different to that of the new iPhone's. The GooPhone i5 sports a 4-inch screen, smaller dock connector, and relocated headphone jack - all rumored to be changes included with the unreleased iPhone.
GooPhone's patent claims won't hurt the Cupertino-based company outside of China, but it GooPhone are successful it would mean trouble for Apple in China. This could mean that Apple might cough up royalties to GooPhone if they want to sell their next-gen iPhone in China.