It looks as though Apple may be lessening some of its restrictions on apps, if the addition of Conttrol to the App Store is anything to go by. Conttrol is an app that allows the remote control of uTorrent running on a PC, so while the app doesn't itself torrent, it controls a program which does, thus enabling torrenting.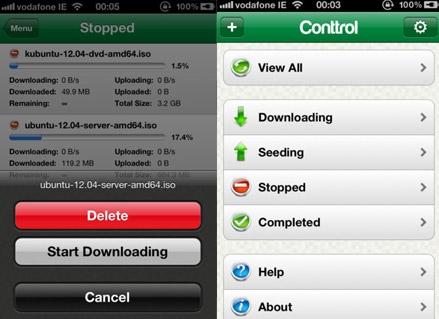 Transmission RPC, a similar app in function to Conttrol, was also approved a few months ago. It's important to note that neither of these apps torrent on the device itself, so this is possibly how they managed to get through the checkpoint. It could also be that they slipped up and accidentally let them through and will ban them as soon as they notice.
"Currently the app supports connections to uTorrent & BitTorrent clients but there are future plans to support Transmission on the Mac, as well as planned development of a native iPad version," Conttrol developer Craig Donnelly said.
Whether or not this signals a change in Apple's policy isn't quite clear. It's possible they don't want to get left behind as Android just received a torrent client from the makers of uTorrent. Only time will tell if this is a true change in policy. If the apps get removed, it clearly isn't.