Intel has expanded the choices available when shopping for a new mobile or desktop CPU. In addition to new chips, Intel has dropped the prices on some of its existing line up. Unfortunately, some of the new chips Intel released today are still based upon the older Sandy Bridge architecture.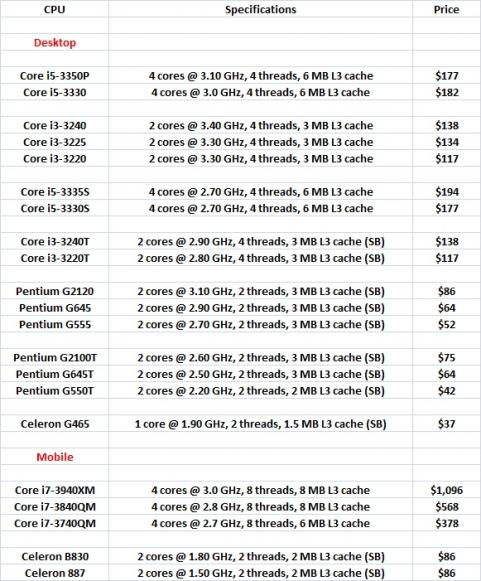 Now, that wouldn't normally be a problem, except the model number is i3-3xxx, where the 3 stands for the Ivy Bridge generation. The chips are bottom barrel chips that most people wouldn't be buying, but the fact exists that there are Sandy Bridge chips, according to my sources, that are being marketed under the i3-3xxx brand.
The desktop update is pretty mundane. They added a CPU here and there, and dropped the prices on some others. It's the mobile market where the really interesting things are happening. Intel has released a new flagship mobile chip, the Core i7-3940XM, that rings in at $1,096. For that you get four cores, HyperThreading, and 3.0GHz of speed.
The full list of changes can be seen in the image. If it has a (SB) notation, it means it is based off of the Sandy Bridge silicon.