It looks like there might be some new, redesigned earbuds in those new iPhone boxes. MacRumors has posted some news, along with a photo and video regarding the redesigned earbuds.
The video shows off the new earbuds, comparing them to the old ones that were included with the current-gen iPhone 4S:
In my hands are the new earphones for the iPhone 5 that is about to come out - Apple's next generation of iPod [sic]. These will replace the current earphones that are on the market. These are manufactured at Phax Co factory in Vietnam. They have the appearance of a horse's head, not like earbuds. When they are worn, they have a much smaller profile. They have the appearance of a fully integrated, single unit - there's no part that looks like it would come apart - not like earbuds; the integrated design is characteristic of Apple products. Here I have the old earphones for comparison. The new ones are much smaller; when they are worn, they do not hurt the way earbuds do. You can see on the old ones the surface is a separate part that looks like it can be detached - not like the small surface of the new one. The old earphones were mostly made in China, with some in Vietnam. But the new ones are clearly made in Vietnam. (Reading from the wires): "Designed by Apple in California, assembled in Vietnam."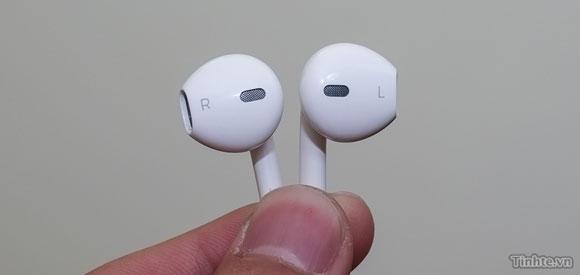 The news has sent tech sites into a frenzy, getting all excited over some redesigned earbuds. If this is the type of reaction earbuds can do, imagine what the new 4-inch screen is going to do. Hopefully someone throws a patent lawsuit on Apple for branching out of their 3.5-inch size.