RumorTT: Apple's new iPhone could sport quad-core A6 processor
RumorTT: Apple's new iPhone could feature the company's A6 processor.

Published Fri, Aug 31 2012 3:33 AM CDT
|
Updated Tue, Nov 3 2020 12:27 PM CST
These RumorTT posts should stop about the new iPhone on September 12, when Apple will hold their press event, and hopefully unveil the new iPhone. The latest rumor to hit the mill is a photo from 'hacker' and 9to5Mac researcher, Sonny Dickson, that shows a next-gen iPhone logic board.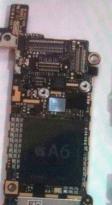 What makes this different to previous photos of the board, is the chip itself, showing an 'A6' processor. Apple's A6 processor is quad-core processor, doubling from the previous A5 processor found in the current iPhone. There have also been rumors that the A6 processor is based on, wait for it, Samsung's Exynos 4 design. Yes, Apple play friendly with Samsung, as they have a 'firewall' between their business relationships.
Most rumors and reports of the new iPhone don't really talk about the processor, so this is one of the first to reach us. Most other rumors have talked of 4G LTE support, a smaller dock connector, a bigger screen based on in-cell touch technology, and more. We should know more in just under two weeks!
The big thing here is going to be the 4G LTE support, with Samsung saying they'll 'immediately sue' Apple if they use the technology.
Related Tags