NVIDIA roadmap: Maxwell only in 2014, no 780 before March 2013 likely
NVIDIA to release Kepler refresh in 2013, Maxwell not to see light of day until 2014.
Published Tue, Aug 28 2012 1:30 PM CDT
|
Updated Tue, Nov 3 2020 12:27 PM CST
NVIDIA has had to push back its launch schedule due to troubles with the manufacturing processes. Originally, Kepler was supposed to launch in 2011, however, it is still being launched to this day and we've almost hit 2013. No new architecture will be produced until Maxwell in 2014.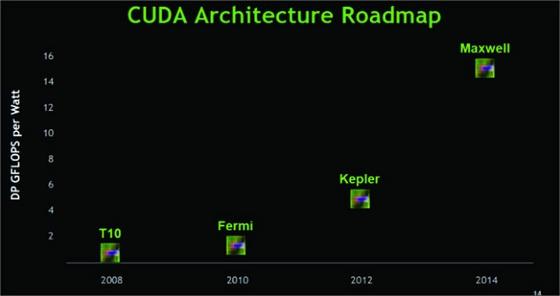 Maxwell is an interesting animal. It will be a 20nm chip, which isn't a big deal. However, it is being designed so that it can be manufactured at GlobalFoundries, IBM, Samsung and TSMC. This should allow NVIDIA to ensure a large enough supply, or make a change if one of the fabs is having process issues.
The GTX 700 series should be a similar launch schedule to what has so far occurred with the GTX 600 series. This means we won't see anything until March 2013 or later. But the good news is that the new chip should between 25-30% higher performance and power efficiency. The Kepler refresh will have to compete with AMD's Sea Islands, so the real battle will take place in 2014 with Maxwell taking on Sea Islands.
Related Tags