XtremeSystems and TweakTown set PCMark Vantage World Record at FMS 2012
TweakTown and XtremeSystems set the PCMark Vantage World Record with help from Corsair and Areca.
Published Fri, Aug 24 2012 2:04 PM CDT
|
Updated Tue, Nov 3 2020 12:27 PM CST
Flash Memory Summit 2012 - Since we just happened to be in town at the world's only dedicated NAND flash event, we decided a little extracurricular overclocking was in order. Corsair provided us with some of the hottest new technology on the market today, AX1200i, the world's first all digital power supply, eight Neutron GTX SSDs, the world's first Link_A_Media Devices SSDs and two Dominator Platinum 2400C9 kits. Areca tied it all together with a brand new, unreleased ARC-1882ix-12 with 4GB of DDR3 cache, a true PCIe 3.0 RAID controller.
We managed to smash the record with a result of 55,340 PCMarks. PCMark Vantage is the premier storage benchmarking suite used worldwide, so to break the overall record isn't easy.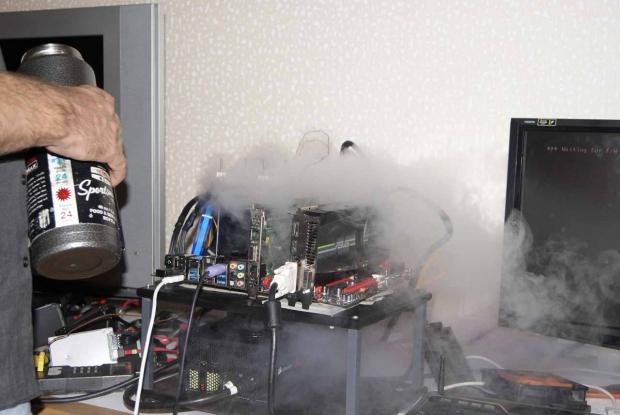 As per usual when we set out for taking a record there is a large amount of Liquid Nitrogen used, bringing us down to -130C on the processor to allow for much higher CPU clocks. Quite a bit of preparation and test runs went into this adventure, with Mike Guava and Charles Wirth, AKA Fugger, from XtremeSystems taking point.
An array of Corsair products were used for the undertaking, with 8 240GB Neutron SSDs, two of the world's first digital PSUs in the AX1200i's, and two 16GB Dominator Platinum DDR3 kits.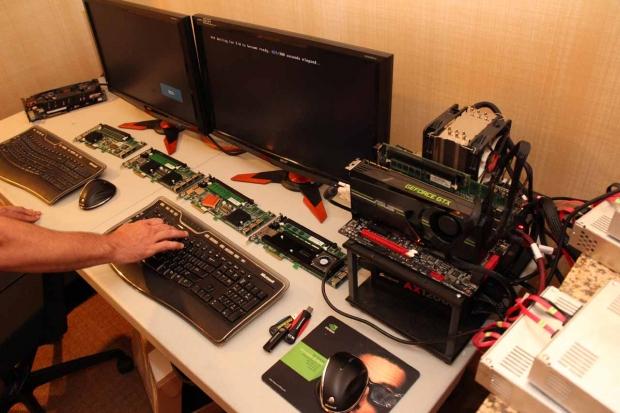 In front of the keyboard we can see an array of the Areca controllers, with three ARC-1880ix-12 controllers, and the new PCIe 3.0 ARC1882ix-12 controller that we actually used to break the record. We will have the full review of the new Areca 1882 PCIe 3.0 RAID controller here at TweakTown within the next few days.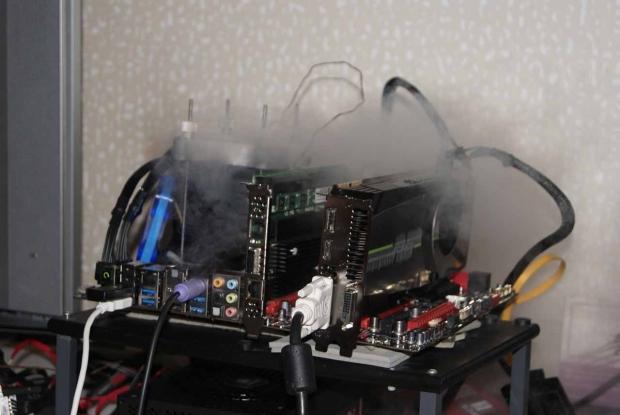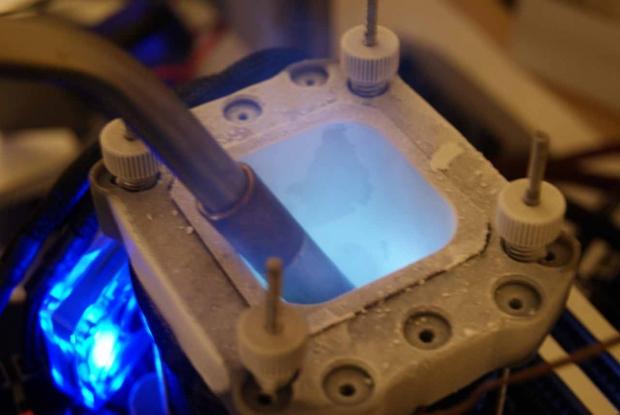 From time to time the blow torch has to come out to get back to temps so that the CPU will be able to boot.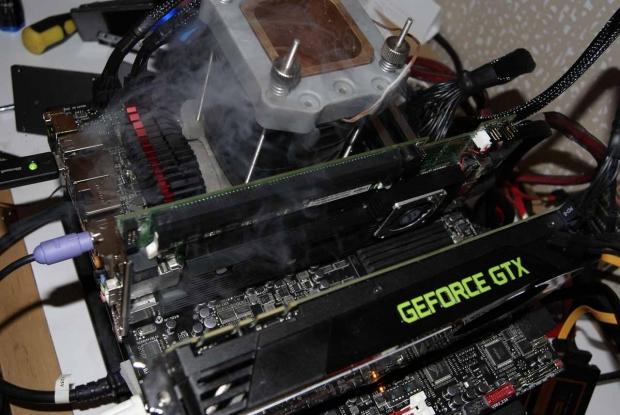 Here we can see the fog coming across the Areca PCIe 3.0 1882ix-12, pure storage nerdgasm.
And we leave you with a few pics of frosty goodness from the event. We would really like to thank first and foremost Mike Guava and Charles Wirth from the XtremeSystems team, along with Corsair and Areca for helping with the gear.
Related Tags