Nokia holds 59% of global Windows Phone market, 32% in US
Nokia holds 59% of the global Windows Phone market, only 32% in the United States.
Published Tue, Aug 21 2012 3:30 PM CDT
|
Updated Tue, Nov 3 2020 12:27 PM CST
Nokia is doing its best to hang in the smartphone market and has placed a large bet on Windows Phone. Instead of investing in Android like many of Nokia's competitor's did, they opted to stick with Microsoft's Windows Phone. And while they have the largest market share of Windows Phone phones, their overall market share is still really low.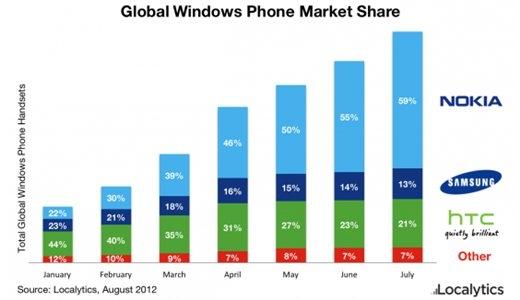 As you can see in the graph above, total Windows Phone sales increased for nearly every manufacturer as the market grew, but Nokia managed to pull way away from the competition with their Nokia Lumia line of Windows Phone. This resulted in lower market shares for the other companies, such as Samsung dropping from 23 to 13 percent or HTC dropping from 44 to 21 percent.
[img]2[/img]
However, in the US market, HTC is still the leader with 36 percent of the market. Nokia holds a close second at 32 percent and Samsung is in third with 26 percent. Nokia didn't launch a phone in the United States until January and you can see how much their sales took off between then and July. Localytics explains how Microsoft has a partner in Nokia:
Rather than relying on partners like Samsung, who is heavily invested in expanding Android's dominance, Microsoft has in Nokia a partner with as much riding on mobile Windows success as the Redmond-based software giant.
Microsoft and Nokia are holding a joint press conference on September 5, at which it is suspected they will jointly launch Windows Phone 8 and a new line of Lumia phones.
Related Tags