Got Speed? Japan lays undersea cable to Singapore capable of 40Gb/s
A new undersea cable connects Japan to Singapore in 65 milliseconds and up to 40Gb/s.
Published Mon, Aug 20 2012 12:29 PM CDT
|
Updated Tue, Nov 3 2020 12:27 PM CST
The Internet has gotten a little bit quicker between Japan and Singapore. Not much more noticeably to your average user, but to high volume traders, the small speed bump could make all the difference in whether or not they get a trade. The cable spans 7,800km from Japan to Singapore and allows for up to 40 Gb/s.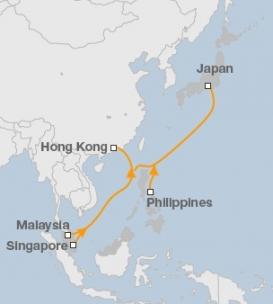 The Asia Submarine-cable Express (ASE) doesn't just run from Japan to Singapore; it also picks up Malaysia and the Philippines and connects them to the underwater line. Interestingly, the cable runs as directly as possible in order to reduce latency down to just 65 milliseconds from end to end. Furthermore, this will allow the cable to achieve 40Gb/s.
In reality, the line is only 3 milliseconds faster than other lines available. However, those 3 milliseconds are crucial to high-volume trading. The new cable will also help replace some of the lines that were damaged during the 2011 Japan earthquake. Due to that earthquake, and one in 2006, this cable was laid in a different area that is less prone to seismic shifts.
Related Tags