As if we didn't have enough choice when it comes to gaming keyboards, Razer has introduced a new model that features it's Switchblade user interface. The Switchblade UI is the same that is currently used the on Razer Blade gaming laptop and has an LCD trackpad and LED keypad combo which can be turned into "a customizable control panel with 10 dynamic, adaptive tactile keys."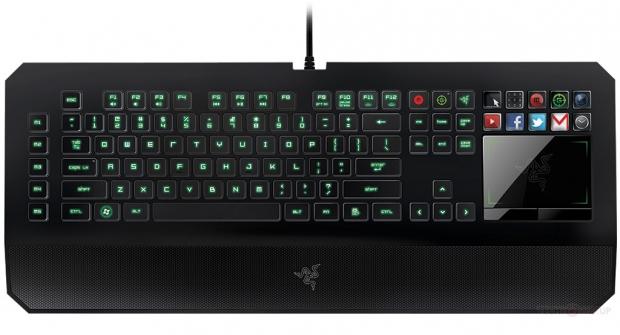 The thing looks pretty sweet, but looks don't matter with a gaming keyboard. Instead, it's all about how it works. Without actually using the keyboard, I'm unable to comment on that aspect of the new product. It has some unique aspects which are relayed in a humorous pres release, including this gem: "The Razer DeathStalker Ultimate features an anti-ghosting infrastructure of up to 10 keys in game mode. Users may actuate as many keys as they have fingers, and have them all register accurately and swiftly in-game."
"With the Switchblade UI on the Razer DeathStalker Ultimate, we wanted to offer gamers an enriching and intuitive gaming experience built for total game control," said Robert "RazerGuy" Krakoff, president of Razer USA. "We continue to work closely with independent software vendors to integrate the API of their games on the Switchblade UI, so that you can see more of the game as you play. I'm excited that we are making such cutting-edge technology available to gamers everywhere, and look forward to bringing more game-specific apps."
The cost for the new keyboard may make you faint, so it's recommended to be sitting down before reading it. Ready? $249.99. The features are as follows:
4.05" touch screen able to run widget apps

Track pad with gesture support

10 dynamic display keys with 80hz response time

Chiclet style key caps

Tri-colour backlit keys

1000Hz Ultrapolling

Fully programmable keys with on the fly macro recording

Razer Synapse 2.0 enabled

Dedicated Gaming mode

5 additional macro keys

Anti-ghosting capability for up to 10 simultaneous key presses

Braided fiber cable

Fixed wrist rest
You can find out more about the keyboard at Razer's product page.
[img]2[/img]