Microsoft's new Outlook.com looks to be a success. In the first 24 hours of it being live, Outlook.com saw 1 million users sign up for the newest webmail service on the block. Now, Microsoft is reporting that the service has seen 10 million users sign up and starting using Outlook.com since its launch just two weeks ago.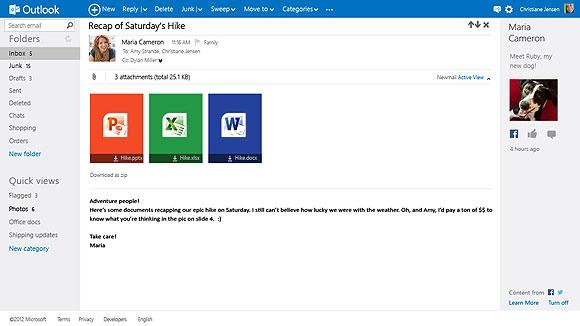 This stat was released alongside an announcement about the updated SkyDrive updates. The number could be slightly inflated by users grabbing vanity e-mails, but even still it is an impressive feat. In other news, SkyDrive has been revamped by Microsoft to feature a new, modern design and will soon be getting an Android app:
Since we launched the Outlook.com preview two weeks ago, we have been truly humbled by the reception. We've received hundreds of great comments, participated in thousands of threads on @reddit, @gizmodo, @neowin and are excited to share that, as of today, more than 10 million people have signed up and started using Outlook.com.

Today, we're updating SkyDrive with a new, more modern web design, refined SkyDrive apps for PCs and Macs, a new SkyDrive app for Android devices, and improved developer offerings. While there's always more to do to improve our products, these updates bring SkyDrive out of preview and ready for a billion users - in time for the upcoming releases of Windows 8, the new Outlook.com, and the new Office.