TechPowerUp has updated GPU-Z to version 0.6.4 and with it brought some interesting changes. According to TechPowerUp, "version 0.6.4 adds/refines support for several upcoming NVIDIA GPUs, such as GeForce GTX 660 Ti, GeForce GTX 660, GeForce GTX/S 650, GeForce 610, and GeForce GTX 680M; Intel GMA 3600 (ROP count); AMD "Trinity" APUs (clock reading accuracy) and AMD FirePro 2270."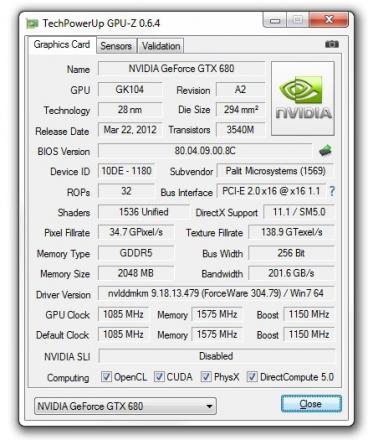 Usually software like this is updated shortly before the release of a new product, such as the NVIDIA GTX 660 Ti, rumored to be launching soon. Support for the NVIDIA 650 also shows that the September launch period is likely an accurate rumor. TechPowerUp also instituted several other changes in the newest version:
Changed sort order of devices to put devices with connected monitor first

Fixed memory size reading for NVIDIA cards with 4 GB or more

Fixed AMD Trinity Fusion clock readings

Added support for NVIDIA GeForce GTX 660 Ti, GTX 660, GTX 650, GT 610, GTX 680M

Added support for AMD FirePro 2270

Fixed ROP and TMU count for Intel GMA 3600

Changed sensor label from "VReg Temperature" to "VRM Temperature"

Fix for sensors displaying Fahrenheit not being saved properly

Added VRM temperature monitoring for CHL8228 based cards

Fix for various crashes
You can pick up the latest version of the software from TechPowerUp's website.