Samsung unveils Exynos 5 Dual, the world's first Cortex A15 SoC
Samsung unveils Exynos 5 Dual (5250) SoC, dual-core 1.7GHz chip.
Published Aug 10, 2012 1:29 AM CDT
|
Updated Tue, Nov 3 2020 12:27 PM CST
1 minute & 59 seconds read time
Samsung have just announced their brand new Exynos 5250 SoC, which is now called the Exynos 5 Dual. Samsung's Exynos 5 Dual is the world's first Cortex A15-based chip, and should be baked into devices later this year. The first of which should be Samsung's 11.8-inch tablet that sports the 2560x1600 resolution, that we've talked about a few times now. The important specs are:
Dual-core 1.7 Ghz Cortex A15 CPU

Mali T604 GPU

OpenGL ES 3.0

OpenCL 1.1 full profile

Support for WXQGA displays

Wi-Fi display support

12.8 GB/s memory bandwidth with 2 port 800 Mhz LPDDR3 RAM support

1080p 60 FPS video performance and VP8 codec decoder

USB 3.0 support
So, this chip is quite the powerhouse it seems. It sports USB 3.0, SATA III and has enough power to decode 1080p video at 60ps on what seems like most codecs. The Exynos 5 Dual isn't all about the CPU, either, it also includes a next-generation GPU, too. Both the CPU and GPU are designed by ARM, who changes their GPU architecture every five years or so. This means that the GPU side of things, the Mali T604, is the first GPU design based on the company's new Midgard architecture, sporting unified shaders, OpenGL ES 3.0 and OpenCL 1.1 full profile.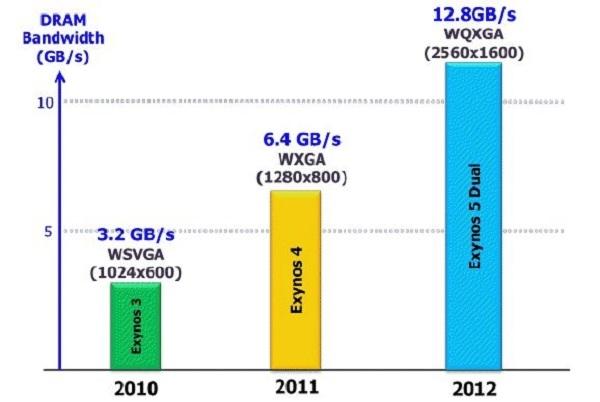 This gives the Exynos 5 Dual an incredible 12.8GB/s of bandwidth, which is really required when pushing a 2560x1600-based display. Not only is the GPU required to be fast, but the memory bandwidth needs to be there, too. The Exynos 5 Dual includes support for the aforementioned 12.GB/sec, with two port 800MHz LPDDR3 RAM.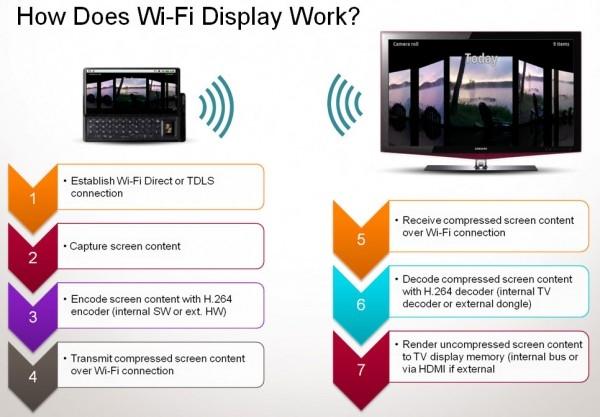 The Exynos 5 Dual also features some impressive power saving tech, which is called PSR mode. PSR mode enables the display to use 20x less power when displaying a static image, like a website or ebook, or when looking at a picture. PSR mode should definitely keep the juice in your battery for the long run.
Exynos 5 Dual is the first chip on the market to support Full HD 60fps video decoding/encoding, but the fun doesn't stop there. The chip is capable of 3D, and you can use HDMI to stream the video from your phone to the TV, and watch the videos in 3D. Exynos 5 Dual also supports Wi-Fi Display technology, meaning you can stream not only videos, but anything else in your phone, wirelessly to your TV.
USB 3.0 support is included, which is another world first for the Exynos 5 Dual. Exynos 5 Dual's USB 3.0 support works as either a Host, or Device, and allows users to transfer files to, and from their PCs, as well as letting people connect peripherals to devices, such as keyboards, controllers, external storage or an LTE modem.
All in all, Samsung's Exynos 5 Dual chip is looking to seriously kick some ass in the market, let's just hope they keep it for their devices and don't push it out to Apple.
Related Tags