If you're looking into buying a tablet for your return to school, you might just think about holding off for a little bit. Engadget has heard from an anonymous tipster that Samsung will be releasing a student edition of the Galaxy Tab 2 7.0 that will be sliding onto Best Buy's shelves bundled with a keyboard and USB adapter.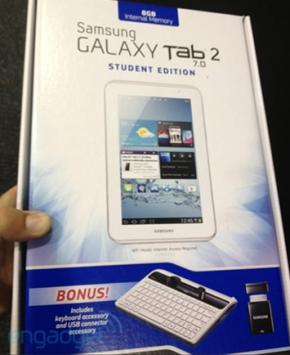 The tablet itself will be the 8GB Wi-Fi only model that already retails for $249, so holding off for a few weeks will net you a free keyboard and USB adapter for free. The device is said to be coming to shelves near you on August 19, just in time for most people who would be buying it for college, and just a week into high school.
If you're still conducting research and weighing the pros and cons of the different devices, this is something you would want to consider. If you go with the Google Nexus 7, you'll have to purchase these extras separately, something likely to drive the price beyond the $249 selling point of the new student version of the Galaxy Tab 2.