Apple have today expanded the available options for configuring a new Retina MacBook Pro. The company is now offering a heap of individual upgrade options on the base model that starts at $2199. Previously, if you wanted a base model rMBP, you were stuck with the 2.3GHz Core i7 model with 256GB of SSD storage, with the only configurable onboard option being a RAM upgrade from 8GB to 16GB for $200.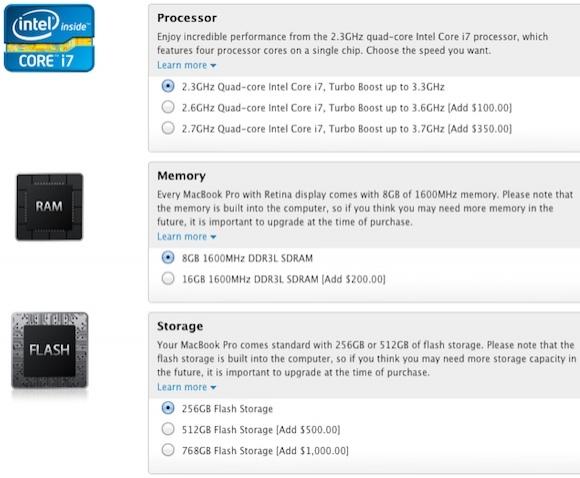 If you wanted a faster CPU, or more flash storage, you were required to jump to the high-end $2799 model, which sports a 2.6GHz Core i7 processor, and 512GB of storage. But now, Apple are offering a slew of upgrades to the processor, memory and storage options. Customers can now upgrade storage on the base $2199 model from the stock 256GB to 512GB for an additional $500, or 768GB for an additional, wait for it, $1000.
The CPU options can also get upped from the base 2.3GHz Core i7 to the 2.6GHz model for $100 extra, or for $350 extra you can get it ramped up to 2.7GHz. Memory options stay the same with an upgrade option to 16GB for the same $200. Apple still has a 1-2 week shipping estimate for the rMBP, as they try to keep up with demand. I really want one, but dumping down that much moola on a single product is hard.