Google updates Maps and Earth with new high-res imagery
Google updates Maps and Earth with new aerial imagery, offers new incredible views.
Published Fri, Jul 27 2012 4:32 PM CDT
|
Updated Tue, Nov 3 2020 12:27 PM CST
Google, not wanting to be outdone by Bing, has updated Google Maps and Google Earth with new high resolution imagery that encompasses 25 cities and 72 countries. Google had previously announced they were taking aerial shots of the globe to include in Maps and Earth and this imagery is finally starting to see the light of day.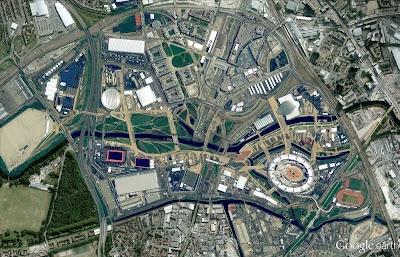 Quite frankly, the imagery is gorgeous. Since the Olympics are in town, Google is of course using Olympic Park and Village in London as the poster child, as you can see in the picture above. Hands down, this level of detail makes Google Maps the number one mapping service. If you look at competitors, it isn't even close.
Google has also increased its 45* offerings with 21 U.S. cities and 7 locations internationally. Google explains which locations got what:
Cities with new high resolution 45 imagery:

United States: Anderson, CA; Beech Island - New Ellenton, GA; Cape Girardeau, MO; Carthage, MO; Chicago, IL; Clarksville (outskirts), TN; Columbus - Reynoldsburg, OH; Dayton, OH; Everett, WA; Galena, KS; Idaho Falls, ID; Joplin, MO; Lafayette (outskirts), LA; Lancaster, CA; Louisville, KY; Lowell, MA - Nashua, NH; Pittsburgh, PA; Pueblo (outskirts), CO; Redding, CA; Springfield, IL; Yuba City, CA.

International: Birmingham, UK; Catania, Italy; Denia, Spain; London, United Kingdom; Meyrin - Vernier, Switzerland; Munich, Germany; Neuchatel, Switzerland.

Areas with new high resolution aerial imagery:

United States: Antelope Wells NM; Bryce Canyon UT; Green Bay WI; Huron, SD; Hutchinson, KS; Olympia WA; Park Hills, MO; Peach Springs, AZ; Phoenix, AZ; Placerville, CA; Riverside, CA; Rosenfeld, TX; Waverly, OH.

International: Wiener Neustadt, Austria; Alicante, Spain; Denia, Spain; Gandia, Spain; Las Rozas, Spain; Lugo, Spain; Santander, Spain; Sueca, Spain; Vitoria, Spain; Bern, Switzerland; Geneva, Switzerland; Nyon, Switzerland.

Countries/regions with new high resolution satellite updates:

Argentina, Australia, Austria, Belarus, Botswana, Brazil, Bulgaria, Burkina Faso, Canada, Cape Verde, Chile, China, Colombia, Croatia, Cuba, Cyprus, Djibouti, Dominican Republic, Egypt, Eritrea, Estonia, Ethiopia, France, Greece, Greenland, Guinea-Bissau, Guyana, Haiti, Honduras, Hungary, India, Indonesia, Iran, Italy, Jamaica, Latvia, Lesotho, Libya, Lithuania, Madagascar, Mauritania, Mexico, Morocco, Namibia, Nepal, New Zealand, Nicaragua, Pakistan, Papua New Guinea, Paraguay, Peru, Poland, Romania, Russia, Saudi Arabia, Serbia, Slovakia, Slovenia, South Africa, Spain, Switzerland, Tunisia, Turkey, Ukraine, United Kingdom, United States, Uruguay, Venezuela, Western Sahara, Yemen, Zambia, Zimbabwe
Start looking now as it will take you days to check out all of the new imagery.
Related Tags