RIM's 4G LTE BlackBerry PlayBook to launch on the last day of July, retails for $550
RIM to launch a 4G LTE-powered BlackBerry PlayBook on July 31, will retail for $550.

Published Tue, Jul 24 2012 1:30 AM CDT
|
Updated Wed, Mar 10 2021 1:19 PM CST
It looks like Research in Motion (RIM) are getting into the news today with something positive, instead of job losses, negative finance reports, or delays on BB10.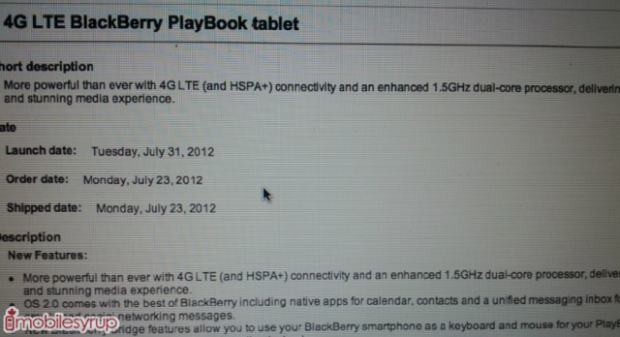 Mobile Syrup is reporting that they've been informed that the 4G LTE BlackBerry PlayBook is set to launch via Bell, and most likely on other Canadian carriers, next Tuesday, the 31st of July. According to an internal Bell document, the price of the 4G-capable PlayBook will be $549.95.
Spec-wise, we're looking at the usual 7-inch display with a 1024x600 resolution, 1.5GHz dual-core processor, 4G LTE (and HSPA+), OS 2.0, 1GB of RAM, a 5-megapixel rear-facing cam capable of shooting 1080p video, 3-megapixel front-facer, 4800 mAh battery and only comes in one size: 32GB.
Related Tags