Phase-change memory is nearly here, Micron is the first out of the gate
Micron is the first to the market with phase-change memory (PCM)
Published Jul 20, 2012 4:27 AM CDT
|
Updated Tue, Nov 3 2020 12:27 PM CST
1 minute & 33 seconds read time
Micron look to be the first manufacturer to bring phase-change memory (PCM) to the market, a flash-alternative. Micron have said that PCM will be first be baked into feature phones, with smartphones and tablets to arrive later.
Why feature phones, and not smartphones and tablets? Micron says they'll be stamping out a board with 1GB of PCM (45nm) accompanied by 512MB of LPDDR2 (mobile DDR). Smartphone and tablet users expect much more capacity, but with PCM still in its early days, this can't be done.
Micron seem to be taking a slow and steady approach, before working with higher densities and smaller packages. PCM is a type of non-volatile memory which appears to be best suited for applications where NAND flash is currently used. Most of you probably use something with NAND flash inside, USB flash drives, SSDs, memory cards, and most other commercial products where permanent data storage without a power source is required. PCM also does this.
PCM is different in the way it stores data, it works by triggering a poly-crystalline solid to become amorphous, switching from its once crystalline state. This change happens by applying jolts of electricity to certain areas of the material, creating heat and triggering those state changes. This type of localized "current injection" can be done with great precision, allowing PCM to manipulate individual "cells" as single bits, similar to SLC flash memory.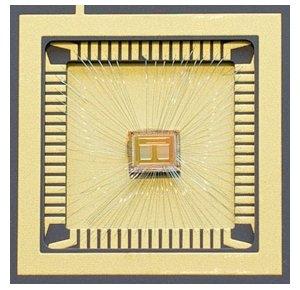 There's also no need for PCM controllers to erase bits between re-writes, unlike NAND flash. If PCM becomes fast enough, we may see something quite different: the marriage of storage and system memory. System memory has to be not only fast, but affordable, which means the industry has been using volatile memory solutions such as EDO, SDR and DDR for quite a while now. These DRAMs, each at their own time, have provided great speed, but instantaneously lose any information they contain when the host device is powered off.
This has kept a bridge between storage devices and system memory, for that fact alone. But, PCM doesn't have the same kryptonite that NAND flash does, on top of the ability to have the potential to really kick its speed up past current DRAM. If PCM continues its path, we could see it become the norm in PCs in a matter of years.
Related Tags