Samsung's 75" ES9000 Smart TV to arrive in August for $9,999
Samsung's 75-inch ES9000 Smart TV to cost a shave under $10k.

Published Thu, Jul 19 2012 12:31 AM CDT
|
Updated Tue, Nov 3 2020 12:27 PM CST
Samsung's 75-inch ES9000 LED Smart TV is making its way to the US of A. Samsung's 3D-capable, LED-backlit set flashed its goodies in New York as part of the Samsung-sponsored SpaceFest marking the Space Shuttle Enterprise's arrival at the Intrepid.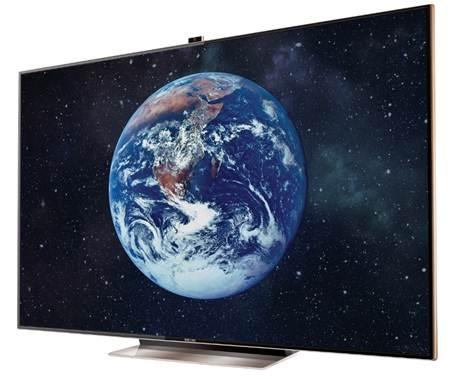 The ES9000's US debut is good news for those who have been holding their breath for a new 75-inch Samsung LED TV. Specs of the TV are not available, but the 75-inch TV bezel measures in at just 0.31 inches, with the frame sporting a rose-gold finish.
Samsung's 75-inch ES9000 also features a built-in web cam that retracts when not in use, and it also comes with four pairs of 3D glasses. The usual Smart Interaction is at play, giving gesture-based movements, as well as voice control to the TV. Samsung also announced a new Angry Birds app for its smart TVs, which allows users to play the game entirely from gesture controls. The app will be a free download, and will be available later this month.
Samsung's 75-inch ES9000 Smart TV will debut at $9,999 in August.
Related Tags