Chrome for iOS now accounts for 1.5% of the iOS browser market
Chrome for iOS now takes up 1.5% of the iOS browser market.

Published Wed, Jul 18 2012 5:27 AM CDT
|
Updated Tue, Nov 3 2020 12:27 PM CST
Google released Chrome for iOS just over a fortnight ago, and even though it's being held back by Apple's security protocols and can't use its own rendering engine, the browser has been among the most popular free downloads on Apple's App Store since release.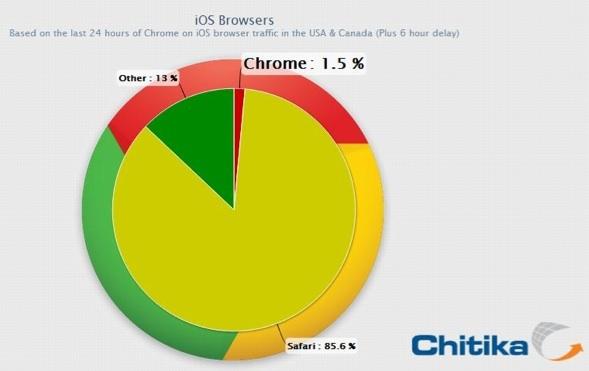 According to the latest data from online advertising network Chitika, Chrome for iOS has snagged a market share of 1.5-percent on its network. Safari is still the champion browser on iOS, but Chrome is seeing some great growth, considering its just over two weeks old.
Chitika has found that around 14.5-percent of iOS users surf the Internet on a browser that isn't Safari. It is worth noting that most of this traffic doesn't necessarily come from a third-party web browser, but from people who arrive on a given site through an app such as Facebook. Chitika's data is based on an analysis of "hundreds of millions of impressions" from Chitika's ad network in both the U.S. and Canada.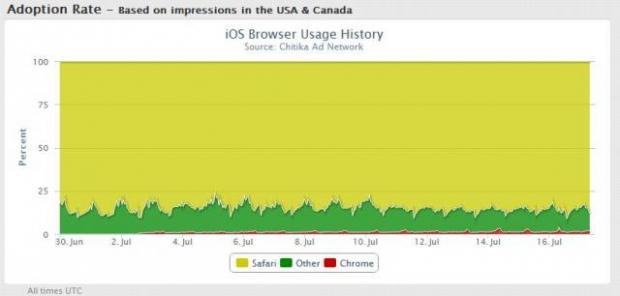 It should be interesting to see how Chrome fares in the coming months, but snagging a rough 1.5-percent of the iOS browser market in such a short time is an achievement in itself. I've personally been loving Chrome for iOS, I love having all of my desktop bookmarks, and saved searches and web history all tied into my Google account, available on any device I use.
Related Tags