If video cards these days weren't built crazily enough, Gigabyte's newest kid on the block sure is. Gigabyte's upcoming Super Overclock version of the AMD Radeon HD 7970 is looking like it'll stand out from the crowd, sporting five 40mm fans mounted on top of a triple-slot radiator.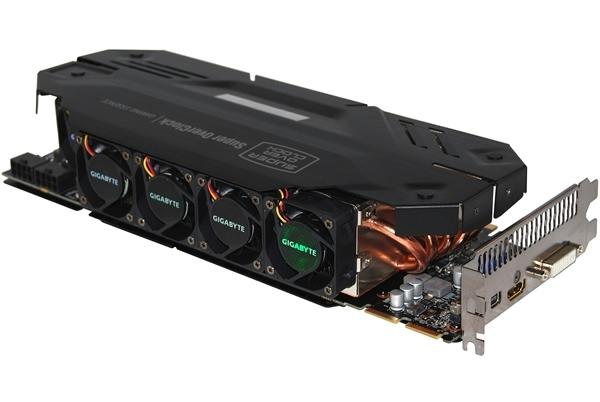 Gigabyte's GV-R797SO-3GD is surely going to be one of the hottest cards (and not in the temperature sense) when it hits, sporting a Tahiti XT-based GPU running a 384-bit memory bus backed up by 2048 stream processors. The overclocked model comes with a core clock of 1080MHz, up from the stock clock of 925MHz, and 3GB of GDDR5 memory clocking in at 5500MHz. Output-wise we find ourselves being offered two mini DisplayPorts, one gold-plated HDMI port, a single dual-link DVI port, meaning the card is capable of running four displays simultaneously.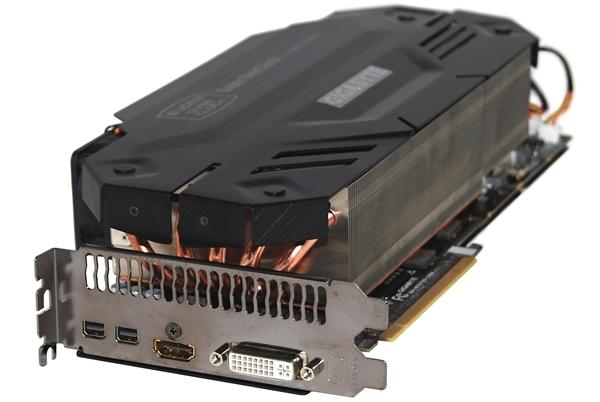 Gigabyte's SOC card uses the five fans mounted at the top of the GPU to "pul" the heated air off the radiator, which the company says reduces "hotspots" on the bottom of the card due to minimal airflow created with traditional cooler designs. What this means is that the HD 7970 SOC is totally silent below 30C, with Gigabyte's Anti-Turbulence Pull Airflow System hitting 53dB at 57C, almost 9dB quieter than a standard HD 7970 running at 64C.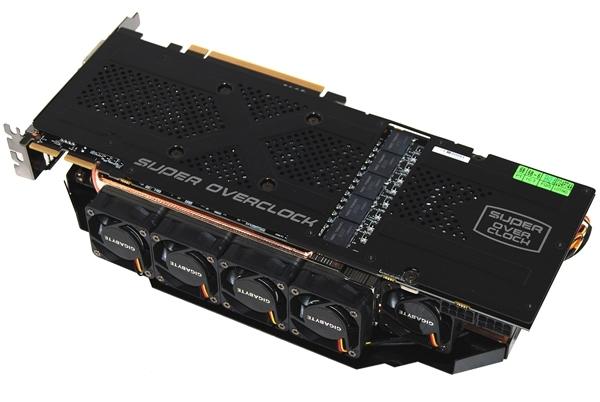 My only problem with the card is that I've never had a good run with 40mm fans, they always seem to die after 1-2 years. Also, this is one super-thick card, meaning most people probably won't be tri-firing these bad boys together, my guess is only CrossFire with another SOC card would be allowed. I'd love to see what two of these could do when pushed to their limits on a multi-monitor setup.